The GALA blockchain gaming token has been on a rip recently. However, its tokenomics model raises a few questions.
GALA gaming tokens have more than doubled in price over the past week. Furthermore, GALA has gained 18.6% on the day and was briefly up 232% from its Dec. 30 low of $0.0154
Gala is a decentralized blockchain gaming ecosystem with a claimed 16,000 player-run nodes across the globe. At launch, there was no premine, presales, or early access to the tokens, and seemingly no venture firms were involved.
However, it unlocks a lot of tokens every day, which could put more selling pressure on the asset and GALA prices.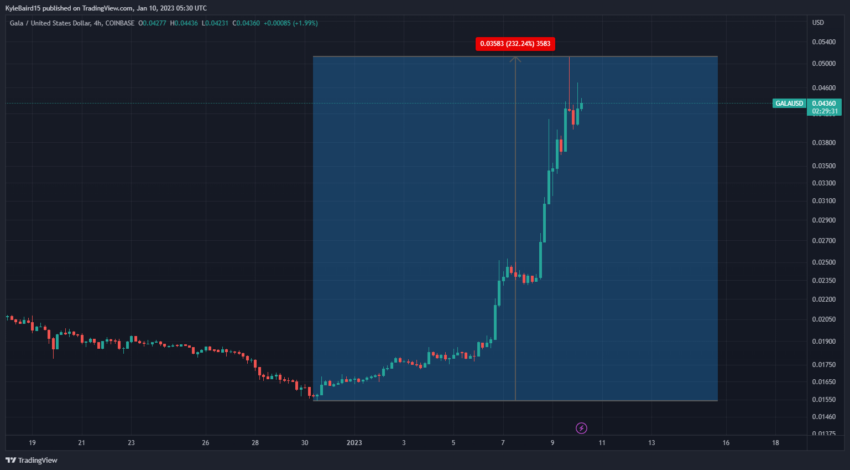 Gala Tokenomics Come Into Question
According to the UnlocksCalendar Twitter feed, Gala's aggressive distribution could induce more selling pressure. With a daily unlock of around $400,000 or $11 million per month, the recent price pump could be short-lived.
Furthermore, the vesting schedule is linear, with daily distribution halving every year on July 21. According to its tokenomics, the maximum supply of tokens is a hefty 50 billion.
The circulating supply is 7.5 billion out of a total supply of almost 39 billion, or 78% of the maximum.
Half of the first distribution of GALA tokens went to Founder's Node Operators, while the other half was distributed to the Gala Games Conservatorship.
GALA currently has a market capitalization of $323 million, and the token is trading at $0.043 at the time of press. Despite recent gains, the gaming asset is down 95% from its November 2021 all-time high of $0.824.
Furthermore, the fully diluted valuation (FDV) is currently around $2.1 billion. With more and more tokens entering the markets, prices may struggle to gain momentum.
In November, a large GALA token mint raised concerns about a potential hack. However, it was just a false alarm.
Blockchain Gaming Ecosystem Outlook
According to a Jan. 9 report by the IBT, GameFi 2.0 is about to take off. "A new generation of serious play-and-earn developers is moving in, determined to build truly great web3 games," it noted.
The decentralization of games and the ability for gamers to the play-to-earn sector will be the next driver of momentum. Crypto markets may be in the doldrums at the moment, but the future is bright for blockchain gaming.
"Simply put, player-owned assets and thriving token economies represent the future of gaming."
Disclaimer
BeInCrypto has reached out to company or individual involved in the story to get an official statement about the recent developments, but it has yet to hear back.
Source: https://beincrypto.com/gala-230-pump-compromised-hefty-crypto-distribution-schedule/