Ontology Price Prediction 2023-2031
ONT Price Prediction 2023 – up to $0.29
ONT Price Prediction 2025 – up to $0.59
ONT Price Prediction 2028 – up to $1.83
ONT Price Prediction 2031 – up to $5.16
On its 4th Anniversary, we remember a source of confusion…
If the tokens are not swapped prior to the deadline, they will remain on the NEO blockchain and will be valueless as they cannot be used on the Ontology network. Are there any ONTs still trapped somewhere?
This scenario seemed to have happened a year ago: "Please help. I cannot transfer my funds out of ontology from exodus due to a lack of ONG. I can not stake or transfer funds due to no ONG. I don't understand how this system could possibly work the way it does. This wallet does not help because I cannot transfer other assets into ONG. Being in the US, I also cannot use most brokerages that would exchange assets into ONG. I have tried everything, and I am desperate for a solution. I just want my funds out of ONT, and it's seemingly trapped. Can anybody suggest a clear-cut, fee-less, safe process?"
Today's Ontology price is $0.229143 USD with a 24-hour trading volume of $15,726,834. Ontology is down 2.64% in the last 24 hours. The current CoinMarketCap ranking is #125, with a live market cap of $200,557,157. It has a circulating supply of 875,249,524 ONT coins and a max. supply of 1,000,000,000 ONT coins.
Evolution of Ontology
Ontology is a comparatively recent public blockchain that enables businesses with almost no cryptocurrency expertise to incorporate blockchain solutions into their operations. The Ontology network allows users to create public blockchains for various applications, getting the best from blockchain technology. With the capabilities for decentralized applications, the Ontology framework is positioned as a direct rival to Ethereum.
The Ontology framework includes two tokens: the Ontology (ONT) and Gas token (ONG). With the introduction of the Ontology MainNet in 2018, the Ontology Token was launched, and it acts as a kind of remuneration for users of the network. More information on ONG may be found as you read this blog. In this Ontology price prediction, you will learn more about the coin's fundamentals and follow a carefully analyzed ONT price prediction.
OnChain, a Chinese startup, developed the ONT network in 2017. The OnChain crew launched the platform led by specialists Erik Zhang, Jun Li, and Da Hongwei. OnChain is also recognized as the developer of the NEO blockchain.
Ontology Overview
[mcrypto id="141304″]

Ontology History
Collaboration with the government
The network was created to allow companies to use blockchain technology without requiring significant modifications to their existing systems. The creators intended to ease the process of incorporating blockchain technology and make blockchain usage accessible to everyone.
No ICO
ICOs are the most popular way for new blockchain companies like Ontology to raise money. This platform, however, did not hold an ICO. Instead, the creators distributed ONT tokens for free (a practice known as "airdropping" in the crypto industry) to anybody who signed up for their weekly newsletters.
Collaboration with NEO
Because the same firm that created Ontology also created the NEO blockchain, they thought it would be good to link the two. They accomplished it by enlisting the assistance of the NEO community to promote Ontology and increase its acceptance. As a result, they distributed free ONT tokens to all NEO holders at the launch.
Primary applications of Ontology
Because Ontology has a dual-system system, its primary currency is the Ontology Token, abbreviated ONT. The ONT first went up for sale in the cryptocurrency market in the 1st quarter of 2018, and its supply will never exceed one billion coins. The rationale behind the one-billion-dollar limit is unclear. Nevertheless, it is thought that ONT was built primarily for private purposes and that ONT and NEO are intended to operate like slices of a shared tech stack.
Furthermore, several properties are reserved for the foundation, innovators, and fintech organizations. Because Ontology collaborated with the far more prominent NEO blockchain, the value of ONT has risen since its original introduction. Its price at the moment of the launch was a bit more than $2.50.
What is the ONT Coin?
The web demonstrates that the Ontology framework is targeted at the general public to prevent obstacles between the finance firm and the blockchain. The franchise sector may utilize Ontology and blockchain technologies with no prior understanding of shared networks.
Since the Chinese's creation of Ontology in 2017, there are still no methods for companies to incorporate blockchain into initial structures with no significant blockchain expertise.
In addition, the existing trust platforms suffer a lot of challenges. Blockchain capacities: Secured data value, ineffective identification, and inadequate privacy security.
Fundamental analyses
Mainnet was just launched, and work on the NFT platform and wallet improvements have begun. New collaborations are gaining traction. Staking and coin economy — Provision of 1,000mn ONT and ONG, with an ONT current circulation rate of about 63 percent and a market cap of $800 million. Its current price is $0.914. it has a trading volume of $108million while its circulating supply is 875 million ONT.
A buyback from the open market was just completed. There have been no burning incidents, and the supply is constant. Staking generates the ONG utility coin, which is transferable and then used to pay the gas charge.
Overall, the analyst believes that ONT/BTC has broken through a critical level; a retest is likely to affirm an S/R flip, enabling a retreat entry.
Why You Should Swap ONT
Token Swap refers to the transition of a coin from the blockchain, where it is temporarily hosted, to its own network. For instance, for a time, Ontology was hosted on the NEO blockchain and migrated its token (read burn the old and create new) to allow ONT tokens to run on its native blockchain. As for EOS, Huobi has decided to support both token swaps, meaning that users holding both ONT or TRX on Huobi will receive the new tokens automatically without having to perform any actions themselves.
Failing to perform the token swap could likely result in the loss of all funds. Users have two ways of swapping their tokens. They either can deposit their token on an exchange that will take care of performing the swap, or they can perform the transition themselves with the use of private wallets. For many users, it is worth depositing their funds on Huobi or their chosen, supported exchange for the sake of convenience and peace of mind – keeping your tokens under your own control, of course, comes with the benefit of added control if you know what you're doing.
Another benefit of depositing your holdings onto the exchange during a Token Swap is the ability to trade the coin. Both TRX and ONT are not going to be transferable from wallet to wallet or wallet to exchange during the migration – rendering the holdings highly illiquid, which has the potential to be costly due to the opportunity cost of not being able to trade, especially if a glitch or bad news ("FUD") occurs during the migration.
What is the Difference Between ONT and ONG?
Since launching, Ontology has relied on two tokens to both power and secure its network. These tokens include:
ONT (Ontology)
Ontology coin or ONT is Ontology's primary coin. It was originally a NEP-5 token launched on the NEO platform. However, once Ontology officially launched its own MainMet, the NEP-5 tokens were swapped for native ONT coins. Since Ontology never did an ICO, they airdropped ONT tokens to those who signed up for their email list and NEO holders. The ONT coin has a total supply of 1 billion, of which around 80% are in circulation.
ONT holders gain governance rights and the ability to stake tokens. Users who stake their ONT can also earn staking rewards. Therefore, they not only play an active role in steering network decisions but also benefit from their participation. Those who stake their ONT receive rewards in the form of Ontology Gas.
ONG (Ontology Gas)
The ONG coin is a special token that's produced every time an Ontology block is confirmed. It's primarily used to pay for Ontology transaction fees. It also rewards users who help keep the Ontology blockchain operational. Additionally, the Ontology Gas coin is used whenever a user performs particular operations on the Ontology blockchain, such as deploying smart contracts.
How to exchange BTC for ONT?
If you are looking for a reliable Ontology exchange platform, Swapzone is here to assist you. Through Swapzone, you can easily convert BTC to ONT or ONT to BTC without the extra hassles of opening and verifying an account. If that sounds like what you are looking for, here is a step-by-step guide on how to swap BTC for ONT:
Head to Swapzone through your internet browser.
In the "pair tab," choose BTC as the coin that you wish to exchange. Enter the correct amount of BTC as well before you proceed.
In the section "get up to," enter Ontology as the coin that you wish to receive in exchange for BTC.
After you've entered these details, Swapzone will display several BTC-ONT exchange rate offers from different exchange partners.
Go through the different offers on display and find the one that you want. You can sort the offers based on transaction time, exchange rate, or provider rating. Once you've found an offer that you want, select it and click on "exchange" to proceed.
After this, enter a wallet address to receive your ONT. You will also need to provide a wallet address to receive a refund in case your transaction doesn't go through or if you're swapping BTC-ONT between two of your wallets. Click on "proceed to exchange" to continue.
This will trigger the transaction to start. It may take a few minutes before you receive your coins. Be patient as the exchange partner sends your ONT.
Once the process finalizes, you will receive ONT in your wallet. Simply take a moment to rate the experience and leave an honest review.
Popular pairs to convert Ontology
ONT to BTCONT to ETHONT to LTCONT to BNBONT to BCHONT to USDTONT to THETAONT to XMRONT to TRXONT to BSVONT to DASHONT to ZEC
Ontology Technical Analysis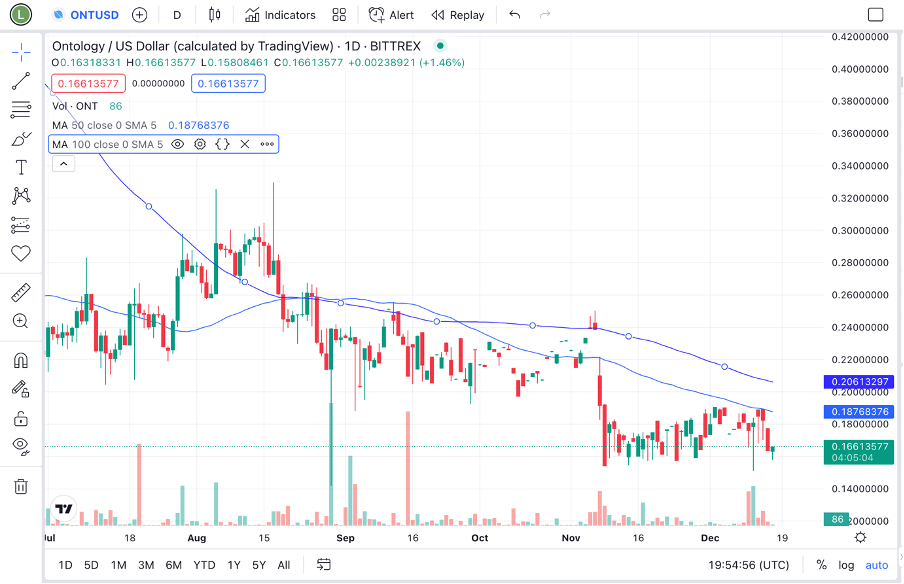 Based on our technical indicators, the ONT coin is currently in a Bearish sentiment in the market. The coin also has an overall Fear score of 28 from the Fear & Greed Index. The last 30 days have seen 13/30 (43%) green days with 3.07% volatility – unfortunately, now might not be the best time to purchase Ontology coins.
Trading below the 200-day simple moving average (SMA), Ontology has sent out a SELL signal for the last 379 days – starting December 3, 2021. Likewise, its price is also under the 50-day SMA, which has been cautioning investors with a SELL notification since November 7, 2022.
A Golden Cross happened on November 22, 2021 – nearly 400 days ago. According to our analysis, Ontology's 200-day Simple Moving Average will descend by next month and hit $0.218941 by January 16, 2023. Moreover, its 50-Day SMA is expected to reach $0.178095 in the same timeframe.
At the moment, Ontology's RSI value is at 37.13, which indicates that the ONT market is in a neutral position.
Ontology Price Predictions by Cryptopolitan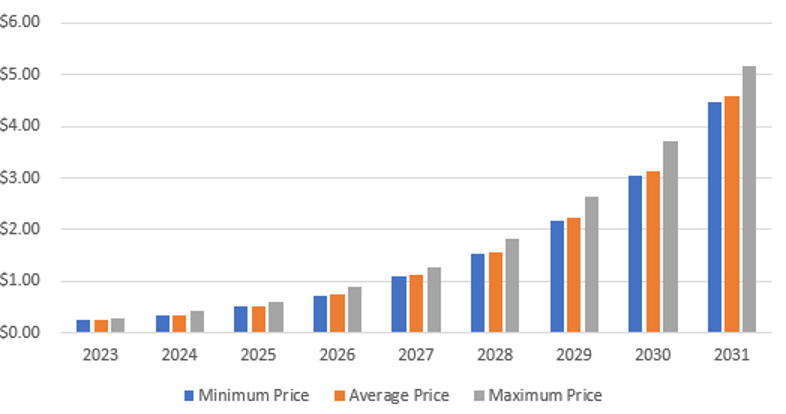 Ontology Price Prediction 2023
According to our Ontology price prediction for 2022, the token is expected to reach a peak of $0.29 and bottom out at $0.24, an overall average forecast price of $0.25 by year-end 2023.
Ontology Price Prediction 2024
According to our Ontology price forecast for 2022, the token is expected to reach a peak of $0.42 and bottom out at $0.34, an overall average price estimate of $0.35 by year-end 2024.
Ontology Price Prediction 2025
We anticipate that the Ontology price prediction in 2025 will reach a minimum of $0.51, with an average value of $0.52 and a maximum potential to hit as high as $0.59.
Ontology Price Prediction 2026
With our Ontology price prediction for 2026, we forecast that the value of Ontology will ultimately reach a minimum of $0.72 and extend to an astonishing maximum of $0.89 in 2025, with an average trading rate estimated at $0.74 across this period.
Ontology Price Prediction 2027
Our Ontology price forecast for 2027 predicts the cryptocurrency could soar to a minimum of $1.08 and reach a maximum price of $1.27, with its average trading cost estimated at around $1.11 during the entire year.
Ontology Price Prediction 2028
Our Ontology price prediction for 2028 sees the cryptocurrency's value reaching a low of $1.52 and potentially rising to an impressive high of $1.83 by year-end, with an expected average worth of around $1.56.
Ontology Price Prediction 2029
We anticipate that the Ontology (ONT) price prediction for 2029 is a maximum of $2.64. The coin is expected to have a minimum price of $2.17, with an average of $2.24 throughout the year – representing fantastic growth potential.
Ontology Price Prediction 2030
According to our Ontology price prediction for 2030, ONT could reach a maximum price of $3.71 and a minimum price of $3.05 per token on average–a substantial increase from current levels. The average trading price of the coin is expected to be $3.14.
Ontology Price Prediction 2031
According to our Ontology price prediction for 2030, the price of Ontology will reach a minimum of $4.48. The ONT price can reach a maximum level of $5.16 with an average trading price of $4.60.
Ontology Price Prediction by Wallet Investor
According to Wallet Investor, the ONT token is a bad long-term investment. According to them, the coin is expected to be worth $0.02075 in one year. In five years, the ONT token will likely devalue by 92.486%.
Ontology Price Prediction by Trading Beasts
According to Trading Beasts, Ontology is expected to reach a maximum price of $0.335, with an average trading price of $0.268 by 2023.
By 2024, they expect the coin to reach a maximum price of $0.388, with an average price of $0.310. The coin's lowest price by then is expected to be $0.264.
Furthermore, Trading Beasts also predicts that Ontology will reach a maximum trading price of $0.486 with a minimum price of $0.331. The average trading price of the coin by then is expected to be $0.389.
Ontology Price Prediction by Digital Coin Price
Digital Coin Price predicts that Ontology will reach a maximum price of $0.42, with a minimum price of $0.35 by 2023. The average trading price of the coin by then is expected to be $0.41.
By 2027, the ONT token is expected to reach a maximum price of $0.89, with a minimum price of $0.77. The average price of the coin by then is expected to be $0.85.
By 2030, Digital Coin Price predicts that the ONT will reach a maximum price of $2.33, with an average trading price of $2.33. The coin's lowest price by then is expected to be $2.23.
Digital Coin Price also predicts that the ONT coin will reach a maximum price of $3.15, with an average trading price of $3.04 by 2031. The lowest price of the coin is expected to be $3.04.
Ontology Price Predictions by Industry Influencers
Earlier this year, Ontology launched its Ethereum virtual machine into the mainnet. This will enable cross-chain operability between Ontology and Ethereum network. Ontology announced a $10M fund for developers creating dAPPs on ontology during the launch.
Wing Finance congratulated Ontology for the move, which will help Wing finance to extend its lending services into the Ethereum Virtual Machine.
As we migrate to Web3 we have an opportunity to create a safer, fairer, more decentralized internet. By launching our EVM, Ontology is contributing to this vision by increasing cross-chain interoperability, as well as expanding our decentralized identity solutions to mainstream developers within EVM-based ecosystems through our EVM Fund. The fund hopes to contribute to the creation of a decentralized, secure, and fully interoperable metaverse. For this reason, it will put a specific focus on metaverse and Web3 projects. The Ethereum network is an essential connection for Ontology given its extensive support of smart contract creation and decentralized application development, not least its position as a leader within the DeFi space and its extensive portfolio of world-class developers.

LiJun, Ontology Founder
This move will increase the utility of its coins and attract more volume from the EVM integration. This will likely lead to investors consolidating more Ontology tokens, which will push Ontology's price higher.
Based on Apni Crypto's Ontology price forecast, ONT will be profitable to invest in for the long term for almost 5+ years.
Here is their long-term price prediction on Ontology.
Conclusion
The Ontology Coin team is making progressive strides with sharding and various multi-chain and cross-chain blockchain solutions. Ethereum also investigates such scalability solutions to optimize its blockchains' capacity for mass usage; however, these advancements from Ontology will open up new global business possibilities.
We predict that Ontology is an excellent long-term investment. We expect the coin to reach a maximum price of $0.29 by 2023 and $5.16 by 2031. Even though we are bullish on this cryptocurrency, we advise you to do your research before investing in it.
Source: https://www.cryptopolitan.com/ontology-price-prediction/