– Advertisement –

After gaining by over 45% in the past week, Solana (SOL) seems to be preparing for yet another gargantuan move as more odds pile in its favor.
The past year has been harsh for Solana. Since tapping an all-time high of $260 in November 2021, SOL has plunged roughly 91%. And whereas SOL's drop for most of 2022 can be attributed to the general turnaround by the crypto market, the collapse of giant crypto exchange FTX battered the crypto further, sending it to as low as $8.
FTX founder, Sam Bankman-Fried was a huge supporter of the Solana ecosystem, helping built projects such as Serum-the first-ever limit order book deployed on a blockchain. Before the collapse, it was further established that FTX's sister trading firm Alameda Research held $292 million in Solana's token, SOL, and $863 million in "locked SOL".
These revelations scared investors into dumping their SOL as everyone sought to drop projects linked to Bankman Fried's crypto empire.
In recent weeks, however, Solana seems to have regained community trust, with Austin Federa, head of strategy and communications at the Solana Foundation noting in an interview with Bloomberg Friday that they have since severed all ties with FTX. Furthermore, the community is stoked at various partnerships as well as plans to build a new validator chain aimed at increasing Solana's performance. Federa noted that the new validator would eradicate the incessant outages and instability issues that have been affecting Solana, for good.
Meanwhile, after topping $24.96 last Sunday, SOL stalled and has been trading in a tight squeeze. While there is a possibility of retracing back to support at $20, there is still some room for growth toward monthly resistance at $28 which coincides with the top of a falling channel.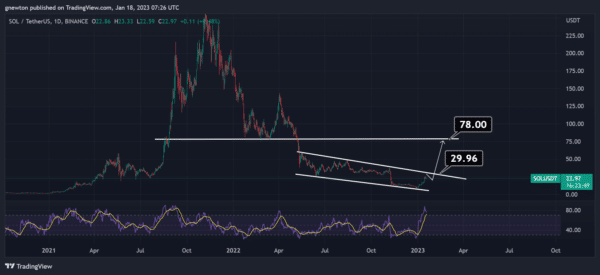 Should the top be breached, the price could retest that trendline before surging to $78. That said, it's however important to wait for SOL to break out of that channel for confirmation. Otherwise, there is still a possibility that it could drop upon tapping it.
At press time, SOL was exchanging hands at $22.96, down 2.17% in the past 24 hours as seen on Coinmarketcap.
– Advertisement –
Source: https://thecryptobasic.com/2023/01/18/solana-gains-over-45-in-a-week-heres-where-sol-is-headed-next/?utm_source=rss&utm_medium=rss&utm_campaign=solana-gains-over-45-in-a-week-heres-where-sol-is-headed-next