Lisk price is in the limelight after exploding to trade at a four-month high of $1.24. Before this breakout, LSK bowed to overhead pressure spreading across the crypto market like wildfire since mid-last week.
Support at $0.74 stopped declines from paralyzing the bulls, which paved the way for an engulfing bullish green candle to $1.24. Lisk price has retreated and is exchanging hands at $0.81. Still, it is up 8.5% over the last 24 hours.
This bullish move in Lisk price has positively impacted its trading volume, which according to price data from CoinMarketCap, is up a whopping 1,247% to $129 million. Lisk is the 116th largest cryptocurrency and boasts $105 million in market capitalization.
Lisk Price Retreats to Collect Liquidity, Relief Rally Looming?
Lisk price pushed past two critical trend lines, as observed on the eight-hour time frame chart below. This elicited interest among bulls, which furnished LSK with the momentum to stretch the leg in a candle wick to $1.24.
However, LSK ran out of momentum, forcing bulls to temporarily give up control, possibly to collect liquidity at a lower price level. At the time of writing, Lisk price holds the ground at $0.81 while holding firmly to support provided at $0.80 by the 100-day Exponential Moving Average (EMA) (in blue).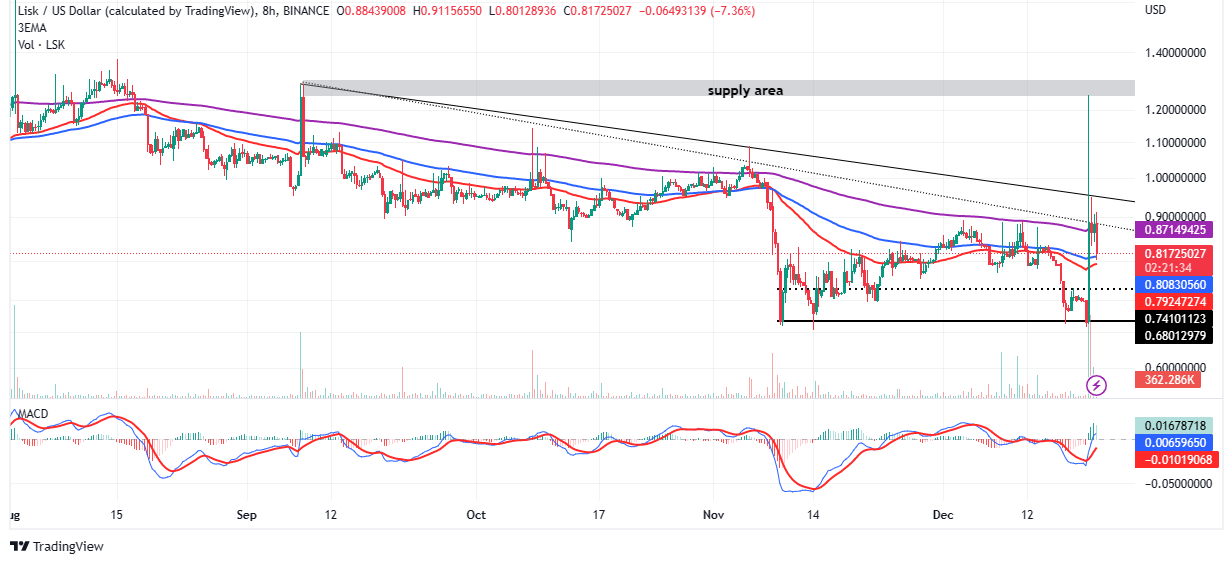 Since the Moving Average Convergence Divergence (MACD) indicator is upholding the bullish outlook in Lisk price, sidelined investors may want to heed the call to buy more LSK.
In addition to a buy signal presented when the MACD (line in blue) crossed above the signal line (in red) on Monday, the momentum indicator climbed above the mean line (0.00) and into the positive region. In other words, Lisk's path with the least resistance could stay to the upside with support from the bulls.
Traders interested in buying LSK in readiness for an end-year rally must wait until the token prints a bullish green candle above the 100-day EMA. A break above the lower trend line (dotted) would go a long way to cement the bulls' increasing influence on the price. The next break and hold past the upper trend line (continuous line) would confirm an uptrend in Lisk price for gains to $1.5 and $2.0, respectively.
Lisk Price Eyes Another 35% Bullish Move
The daily timeframe chart reveals the appearance of a double bottom pattern, which, if confirmed, could culminate in a 35% swing to $1.1856. A double bottom is a trend reversal pattern with which traders decide to long the asset.
It appears after an extended downtrend, following the formation of two valleys (bottoms). As the price rebounds from the second bottom, it signals that selling pressure is about to finish – a reversal will likely occur.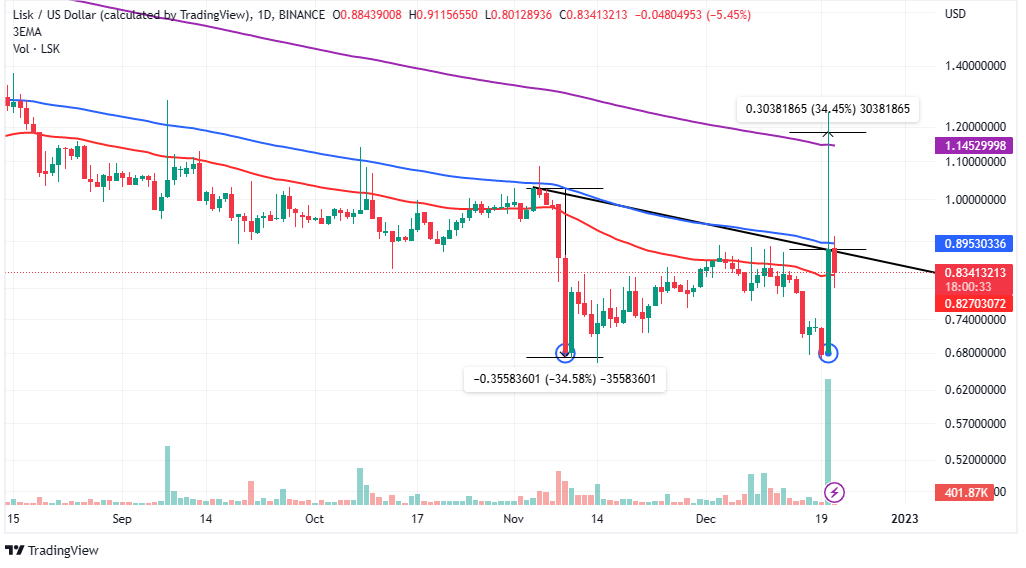 A break above the neckline resistance confirms the double-bottom pattern, with the price expected to make a 35% move to $1.1856. This distance equals the length of the pattern extrapolated above the breakout point.
On the same daily chart, we see the 50-day EMA (in red) providing immediate support to Lisk price at $0.8267. LSK needs to close the day above this moving average to prevent declines from erasing the progress made by bulls over the last 24 hours.
If overhead pressure overwhelms bullish efforts and a break occurs beneath the 50-day EMA, investors may acclimate to losses toward LSK's primary support at $0.6730.
Altcoins Promising Quicker Returns
The year is at the tail end, meaning many investors could be looking back to review their portfolio performance. Considering the generally dismal performance of the crypto market in 2022, there may be little to write about.
However, some selected altcoin projects could provide investors with quick returns as we turn into the year. The selected tokens listed here are currently in their presales and presenting solid fundamentals ahead of their first exchange listings. They offer early-bird access to projects that may shape the crypto landscape in the future.
Dash 2 Trade (D2T)
Dash 2 Trade is a cryptocurrency platform offering a dashboard with integrated analytics and features designed to help traders achieve success. With this crypto terminal, traders access trading signals that lead to buy/sell opportunities in the market.
The platform's social sentiment and on-chain analysis ensure that traders can trade spot-trending coins. A strategy builder is also in place to help investors develop and share ideas with others. Dash 2 Trade offers a bespoke scoring system for investors to participate in crypto presales in addition to access to exchange listing announcements.
Dash 2 Trade's presale is currently in its final stage with $10.3 million out of the expected $13.42 million raised. The token's first CEX launch will go live on Wednesday, January 11, 2023.
FightOut (FGHT): Presale Raises $2 Million
FightOut is the newest Move-to-Earn (M2E) crypto project hoping to help you take your fitness routine to the next level. As a user of this platform, you will have access to the fitness app and gym chain. FightOut aim is to gamify the fitness lifestyle as users are rewarded for finishing workouts and challenges.
The ecosystem's tokenized economy is powered by FGHT, where users earn rewards for completing their M2E tasks. Interestingly, users can mint their own digital NFT avatar for the metaverse.
FightOut presale launched recently and has raised over $2.2 million. The team is offering a 50% bonus for all purchases made, with the threshold set at $5 million.
Read more:
Waves Platform CEO Announces New Stablecoin
Best Cryptocurrency to Buy 2023 with Most Potential
Bitcoin Price Prediction for Today, December 20: BTC Price Slumps and Struggles below $17K
FightOut (FGHT) – Move to Earn in the Metaverse

Early Stage Presale Live Now
Earn Free Crypto & Meet Fitness Goals
KYC Verified by CoinSniper
LBank Labs Project
Partnered with Transak, Block Media
Staking Rewards & Bonuses



Source: https://insidebitcoins.com/news/lisk-price-poised-for-an-end-year-rally-as-lsk-jumps-8-5-time-to-buy