Dogecoin whales are becoming active since Elon acquired Twitter.
After the world's richest man, Elon Musk, completed and formalized his Twitter takeover, many industry experts (including on-chain analytics platforms such as Santiment) predicted a flurry of activities on the DOGE network. They appear to be right based on the current DOGE price action.
Top crypto trader on Twitter, Ali Martinez, with the username (@ali_charts), has revealed a 4-month peak in the volume of whale-like transactions on the DOGE network. He stated that DOGE whales (DOGE holders whose DOGE holdings are worth more than $100K) had made more than 2,400 DOGE transactions within the past 24 hours.
Martinez further said that these transactions' volume only depicts the actions of whales. Then, he added the whales are purchasing in anticipation of a huge spike in DOGE price.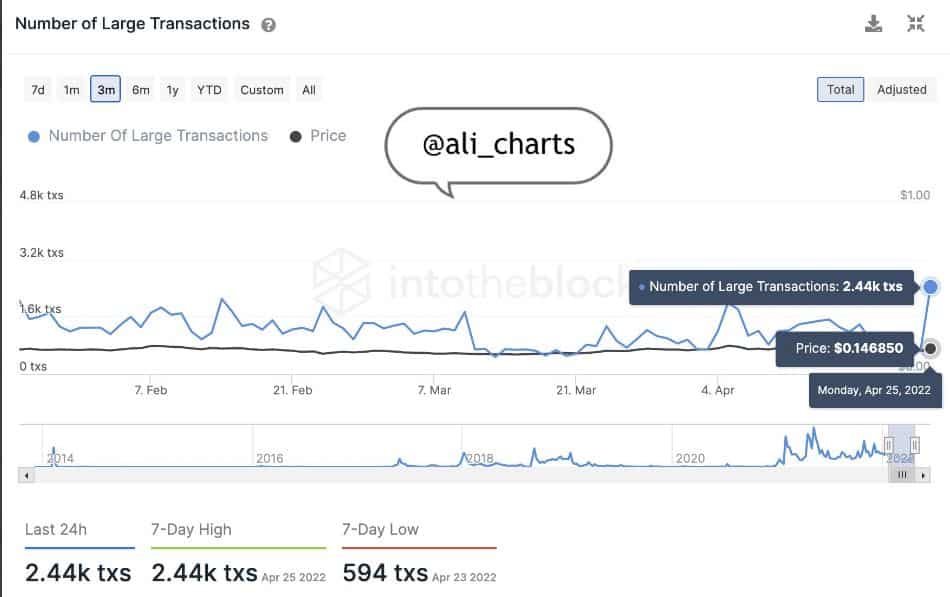 Image source: Twitter
The chart shows whales' activity, suggesting how they may be positioning for a big price move. At the price level of $0.14, doge whales performed 2,400 DOGE transactions worth more than 100K each transaction, seriously suggesting whales' expectation of a massive spike in DOGE price.
A DOGE breakout happening
Martinez also shared his analysis of DOGE price action following yesterday's Twitter acquisition by the self-acclaimed Dogefather, Elon musk. The crypto analyst revealed that the 7-day chart shows that DOGE has broken out from a falling wedge pattern and might surge past its next crucial support (the $0.24 price level).
However, he remarked that DOGE would need to maintain a price level above the $0.13 support level before this bullish movement can hold. He said that if DOGE should decline below this $0.13 support, it might be impossible to hit the $0.24 price as previously predicted.
He said:
"DOGE appears to be heading to $0.24 after breaking out from a falling wedge pattern on the weekly chart. Failing to hold above the $0.13 support level can invalidate the bullish outlook for DOGE."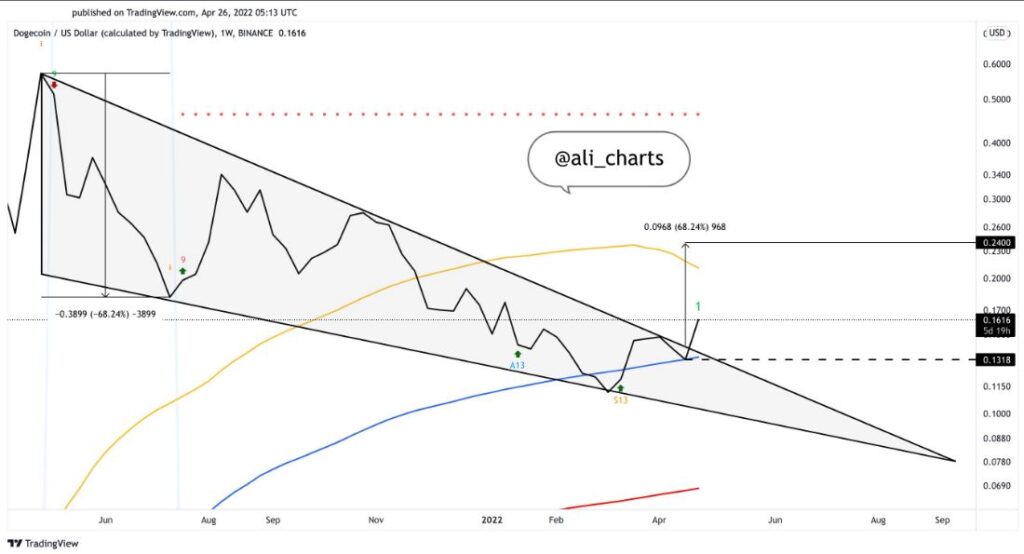 Image source: Twitter
DOGE liquidations reach 133M in 24 hours
As expected, there have been short-term DOGE liquidations of the dog-themed crypto. A Coinglass data revealed that there had been nearly 133M DOGE liquidations (worth over $20.14M) within the past 24 hours.
This volume of liquidations means that DOGE ranks third among the top liquidated digital assets, with BTC and ETH occupying the previous two spots. However, the data further revealed that more than 70% of those liquidations were from short traders taking entry positions in anticipation of a drop in DOGE price.
Despite the large volume of liquidations, DOGE price gained 20% and traded at $0.17. While DOGE ranked third (behind BTC and ETH) among the most liquidated digital currencies, it ranked first among the top-performing digital assets, ahead of BTC and ETH, which gained 2.95% and 3.7%, respectively, in the last 24 hours.
– Advertisement –
Source: https://thecryptobasic.com/2022/04/26/are-dogecoin-whales-positioning-for-a-big-price-move/?utm_source=rss&utm_medium=rss&utm_campaign=are-dogecoin-whales-positioning-for-a-big-price-move