– Advertisement –

The Whitelabel NFT marketplaces are a one-stop-shop for all the NFT needs of a business. These platforms offer ready-to-deploy solutions that are quicker to launch than building your own NFT marketplace from scratch.
Despite being readymade, Whitelabel NFT marketplaces still offer flexibility and customization so that you can tailor the marketplace to your own specific needs. Typically, Whitelabel NFT Marketplaces provides a bundle of development services in a single package that improves your convenience and allows you to focus on the business side of your projects.
With a focus on a user-friendly interface, Whitelabel NFT marketplaces allow you to offer your users a convenient way to buy and sell NFTs, as well as a wide range of options to choose from and a variety of payment options to suit different needs.
The Growing Need for NFT Marketplaces
NFTs are a new type of digital asset that are unique and cannot be replicated. They have been widely popular as a way to collect and trade digital assets. For example, people have been buying and selling NFTs of digital art, music, and even virtual real estate. NFTs are also being increasingly used in games and the metaverse. However, it is just the beginning.
Statistically speaking, the global NFT market size was $15.54 billion in 2021 and is expected to be worth north of $230 billion by the end of this decade.
The question is, why are NFTs gaining so much traction? Simply put, they are immutable (cannot be changed or replicated) and provide provenance (a record of ownership). These benefits are attracting users in hoards, and such is its scale that to many, it may appear as if everyone is jumping on the NFT train. As a result, the demand for NFT marketplaces is also rising.
Several marketplaces are catering to this growing demand, developing an all-in-one, fast-moving NFT market for every physical and intangible asset. The marketplace makes it easy for users to buy, sell, exchange, mint, and hold NFTs safely and provides an overall seamless NFT trading experience.
For instance, Objkt makes it easier for the community to buy and sell NFTs on the Tezos blockchain. But the proliferation of blockchains means every ecosystem needs its own NFT marketplace. After all, even cryptocurrency exchanges have built their own specific platforms, such as Crypto.com NFT Marketplace, which cater to millions of users.
This tremendous demand for NFTs and a marketplace to trade them has resulted in the prominence of Whitelabel NFT marketplace solutions such as Fungies, which allows a regular, not-tech-savvy individual to start their feature-packed, regular-sized NFT marketplace in minutes — all without the knowledge of blockchain technology.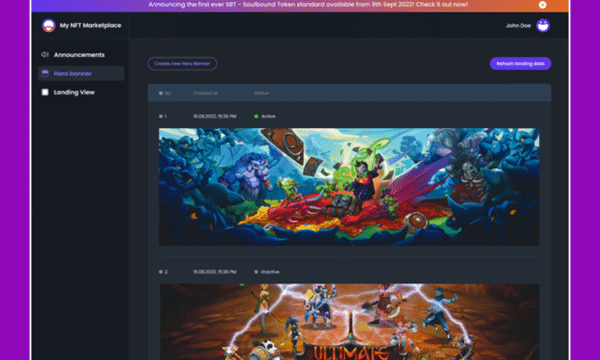 Solutions like Fungies help you achieve world-class finished products from the user interface to development. Some platforms even offer you services like dynamic NFTs, customizable NFT marketplace, on-chain analytics, and even App store compliance.
For instance, to empower brands, artists, studios, and businesses with their brand-owned NFT marketplaces, Fungies provides a partner network of Solana, Avalanche, Polygon, Binance, KuCoin, DAO Maker, Enjin Starter, Spartan, DeFiance Capital, Yield Guild, and many other big names from the cryptocurrency industry.
Many Benefits of Whitelabel NFT Marketplace
There are tons of reasons why you should opt for a Whitelabel NFT marketplace to a custom NFT marketplace. For starters, it won't take you months to get your platform ready. Developing your own NFT marketplace means easily a few months of work which can extend even further if your platform needs intricate functionality. Meanwhile, a Whitelabel NFT marketplace can be designed with advanced capabilities without hiring different specialists, saving both time and resources.
Building a custom NFT marketplace involves a hefty cost which is then passed on to the regular users, making it expensive to use them. And you don't want to scare off users with high fees before they even can try your platform.
When the entire platform is built from the ground up, it cannot be fixed easily either, whereas a white-label platform is ready for use with more flexibility. White labeling also allows businesses to scale the marketplace more easily, as you can add more users and transactions without impacting the site's performance.
Security is a particular concern for NFT users, with user data and assets getting stolen from NFT marketplaces. To mitigate these issues, such platforms need strong security layers, which are complex and expensive.
Offering a high level of convenience in wallet integration can set a platform apart from others, especially in the crypto sphere where UX is not really the area of focus for the technically-inclined people of blockchain. But it goes without saying the user interface must be the priority to onboard the next billion users.
Moreover, developing an NFT platform depends on the target market you have in mind. In the white-label approach, you can choose the best NFT-specific platform features depending on your needs and wants and can further employ the offered integrations immediately.
Not Every Whitelabel NFT Marketplace is the Same
With the popularity of NFT marketplaces in the fast-paced crypto industry, several companies are now offering Whitelabel marketplace solutions. But of course, not every solution is the same.
You need a white-label NFT marketplace that is fully customizable to be built on our own domain. This means complete control over the marketplace's design, branding, and functionality. You must be able to add our own unique features and integrations to make the marketplace truly our own.
The best ones offer a healthy community and a responsive team that answers any questions you may have. A white-label platform must help you navigate the market and build content that fits your business's requirements.
The advancement of the crypto sector means your platform needs to be feature-packed such as integrated NFT mass loading, customizable payment tokens, and more. A Whitelabel NFT marketplace must also allow you to integrate your own token as well as enable in-app purchases with your own token or with any cryptocurrency, even with little experience in code.
With crypto becoming a multi-chain world, it is just as crucial that a Whitelabel NFT marketplace solution provider allows you to support popular chains like Ethereum, Polygon, Avalanche, and BSC, among others. You can't simply afford to stick to just the most popular chain Ethereum as every chain has its own benefits and thriving ecosystem of applications and users.
At last, look at the subscription plans to build the Whitelabel NFT marketplace. For instance, Fungie charges just 2% of transaction fees to keep the platform running.
Overall, with a ready-made solution, you can go to market faster and focus on what's important to you. Plus, you'll have all the features and functionality you need to run a thriving marketplace. So, anyone who wishes to launch an NFT marketplace must look into Whitelabel solutions.

– Advertisement –
Source: https://thecryptobasic.com/2022/12/12/how-does-the-whitelabel-nft-marketplace-save-you-time-and-costs/?utm_source=rss&utm_medium=rss&utm_campaign=how-does-the-whitelabel-nft-marketplace-save-you-time-and-costs