Users can now keep track of the official launch date of Ethereum Merge on Google. 
There has been growing excitement over the upcoming launch of Ethereum Merge. The excitement about the upgrade has prompted Google to keep track of the event's launch date. 
A countdown timer has been made for Ethereum Merge on the world's largest search engine, Google. Ethereum enthusiasts can now keep track of the exact date the Merge is expected to go live when they search "Ethereum Merge" on Google.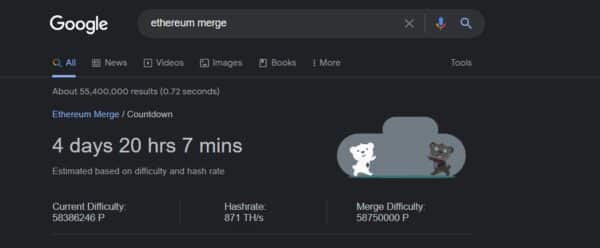 At the time of writing, the Merge is expected to go live in exactly four days and 20 hours.  
Aside from the countdown timer for the merge deployment, ETH investors can also see other details about the upgrade, including Ethereum hash rate and Merge difficulty. 
Ethereum Merge
The Merge is an important step toward Ethereum's transition from a Proof-of-Work (PoW) algorithm to a Proof-of-Stake (PoS). As reported by TheCryptoBasic, the upgrade is expected to go live between September 13 and September 15, 2022. 
With Ethereum transitioning to a PoS algorithm, the network will ultimately get rid of high transaction fees and slow processing of transactions that have frustrated users for years. 
These prospects have prompted excitement among ETH enthusiasts.
– Advertisement –
Source: https://thecryptobasic.com/2022/09/10/ethereum-eth-merge-date-countdown-goes-live-on-google/?utm_source=rss&utm_medium=rss&utm_campaign=ethereum-eth-merge-date-countdown-goes-live-on-google