While most cryptocurrency prices are down amid the current market downturn, Tezos' (XTZ) price surged by over 6% in the last 24 hours. In addition, the token recorded a notable price increase over the past weeks, with a 14-day price gain of 14.9% and a 30-day rally of 25.3%. At press time, XTZ is trading at $1.39, a 4.71% increase from its past day's price.
With a 22.1% 7-days rally, Tezos is outperforming the global cryptocurrency market, which has increased by 0.4% over the past seven days. Also, XTZ is leading similar smart contract platform coins, down by 2.00% over the past seven days.
Will XTZ exceed the current price and climb above $2? The following Tezos price trend and analysis could hint at XTZ's price action in the coming days.
XTZ Price Trend
XTZ, the native token of the Tezos smart contract platform, held its ICO (initial coin offering) in July 2017. As of 2017, Tezos traded above $2 and later rallied to over $9 during the 2021 Bull Run before correcting again to the current price.
XTZ is 300.9% higher than its December 07, 2018, all-time low of $0.350476 and 84.58% lower than its October 2021 all-time high of $9.12.
Tezos saw a steady increase in price after closing 2022 at $0.720353. Although the coin saw few price corrections this year, it rose with impressive momentum when market conditions improved earlier in January, climbing above $1 on January 15.
XTZ continued bouncing between $0.9 and $1 until January 20, when it closed the market at $1.07. Since then, until February 23, the token has remained above $1 amid slight pullbacks.
XTZ Price Prediction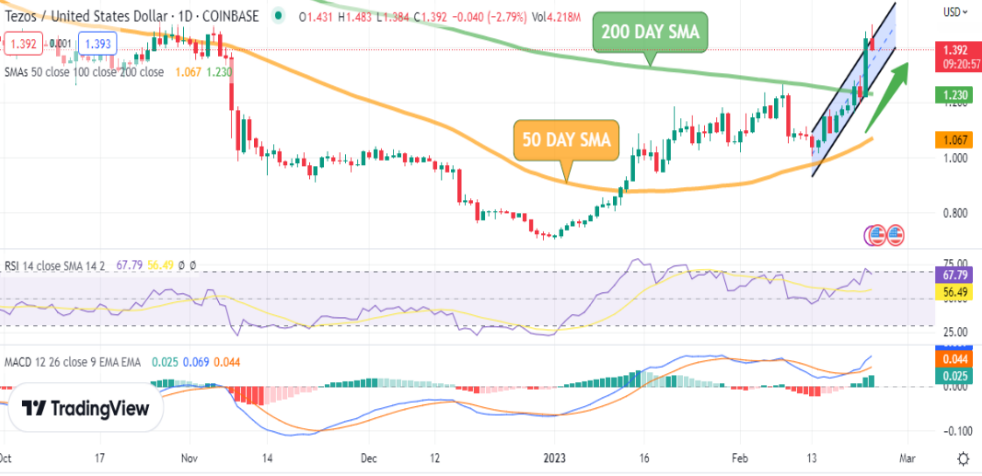 Tezos is trading with gains today at $1.39 within the last 24 hours. The asset finally traded at $1 on January 14, 2023. XTZ is trading above its 50-day and 200-day Simple Moving Averages (SMA), a bullish signal. Also, the 50-day SMA currently moving upwards reflects the possibility of a short-term rally.
Tezos is in an uptrend despite forming a red candle on the daily chart today. Furthermore, the long green candle formed on February 22 created a bullish engulfing pattern which signals a further price increase.
Also, XTZ's Moving Average Convergence/Divergence (MACD) is above its signal line, displaying a strong bullish sentiment. The indicator is pointing upwards, which could lead to a further rise.
The Relative Strength Index (RSI) is at 67.79, close to the overbought zone of 70. However, the indicator points downwards, which is a possible decline due to bearish pressure. The support levels are $1.07, $1.14, and $1.29; the resistance levels are $1.51, $1.58, and $1.72.
Tezos will likely surpass the $1.58 resistance and test $1.72 if the rally sustains. Also, the $2 price level may take a longer time frame (a few weeks) for the asset to attain based on its 200-day SMA. However, a price pullback is possible if the RSI hits the overbought region for consolidation before the rally resumes.
Crypto investors should note that altcoins are volatile and can deviate from a price forecast. Therefore, proper research, understanding, and risk management techniques are vital for all traders.
Factors Pushing XTZ Price
The Tezos network has undergone a spree of development projects this year, which could partly be responsible for its price performances. Focusing on the most recent ones, Tezos launched an accelerator program with Fuelarts to empower ten (10) art and tech startups on February 13.
Nomadic Labs Joins Tezos Bakers
Nomadic Labs also became a corporate Baker at Tezos. The word baker is the term with which Texos refers to individuals or firms who compete for blocks on the blockchain. Nomadic Labs becoming a baker on Tezos could mean more users for the network.
[#Tezos Baker]

🤝 We are happy to announce that @Zircon_Tech is now a @tezos #CorporateBaker!

Learn more: https://t.co/UIreoN9XS4#BlockchainEvolved pic.twitter.com/ebsXqqghIW

— Nomadic Labs (@LabosNomades) February 9, 2023
Tezos/Google Cloud Partnership
Also, Tezos announced a partnership with Google Cloud to incentivize its Web3 incubator program on February 22. The rapidly expanding Web3 ecosystem has been a stepping stone for more users and utilities for crypto service providers. Launching into Web3 could bring more users to Tezoz and push its price upward.
Rise In Trading Volume
According to data on CoinMarketCap, XTZ saw a 38.52% increase in trading volume over the past 24 hours. An increased trading volume shares a close correlation with growth in on-chain activities. Therefore, commenting that XTZ's current price action is due to its increasing trading volume would not be strange.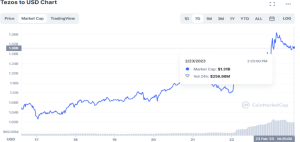 From the chart above, XTZ's trading volume is currently $256.98 million, a notable increase from its February 22 value of $243.91 million.
Increasing Investor Sentiment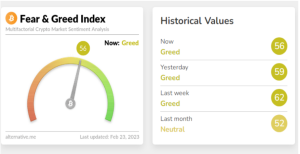 According to CoinGecko, the community is bullish on Tezos (XTZ) today, with over 90% of users feeling good about the token. Also, at press time, today's fear and greed index is 56, implying that investors' sentiment remains bullish, meaning more people are buying and holding crypto.
Tezos' price outlook in the coming weeks looks positive as it has maintained a positive price form in 2023, consolidating on its gains.
Fight Out (FGHT) – Newest Move to Earn Project
CertiK audited & CoinSniper KYC Verified
Early Stage Presale Live Now
Earn Free Crypto & Meet Fitness Goals
LBank Labs Project
Partnered with Transak, Block Media
Staking Rewards & Bonuses
Source: https://insidebitcoins.com/news/xtz-price-prediction-as-the-altcoin-struggles-to-claim-the-2-mark