As the move-to-earn market expands and heats up, now is the time to be involved. Here's a quick overview of the best M2E platform in 2023. Following the success of play-to-earn (P2E) cryptocurrencies, which make gaming activities monetizable.
Move-to-earn cryptocurrencies is a growing market that encourages physical exercise by providing cryptocurrency rewards. M2E became really well-known because it is essential to move frequently for your wellness.
Find the full details of Sweatcoin price prediction and high-profitability alternative in the video above, follow his YouTube channel for more move-to-earn reviews.
What is Sweatcoin
Sweatcoin is a smartphone app that is available for free on Android and iOS. The app tracks your daily steps in the same way that any other track-stepping app would. Sweatcoin syncs with your Google Fit, Apple Fit, or other default fitness app to track your daily steps. The app can be used while running or walking outside or on a treadmill, making it appropriate for any situation.
Sweatcoin is a new type of step counter and activity tracker that converts your steps into currency that you can use to buy gadgets, sports and fitness equipment, services, and experiences. Sweatcoin is a new generation achievement tracker.
Sweatcoin Vision
Sweatcoin is a free app which rewards your daily steps with a new-generation currency you can spend on cool products or donate to charity. Why? Because when you look after your health, you benefit society. You are more productive. You help save billions in healthcare. Your movement has value: you deserve a share in it.
How It Works
They use your phone's accelerometers and GPS location to track and verify your steps, which are then converted into Sweatcoins at a conversion ratio of 1,000 verified steps to 1 SWC. Once earned, you can spend your Sweatcoins on products and services in our in-app shop.
Sweatcoin Price Analysis
The current Sweat Economy price is $0.0106 as of today December 23rd, with a 24-hour trading volume of more than $790,000. Sweat Economy has increased by 5.70% in the last 24 hours. CoinMarketCap currently ranks #516 with a live market cap of $21 million.
Sweatcoin had a successful launch and they did 6x but didnt last long, it went downtrend and stuck in it, and had a 89% correction. Sweatcoin's current sentiment is neutral, and investing in SweatCoin is currently profitable.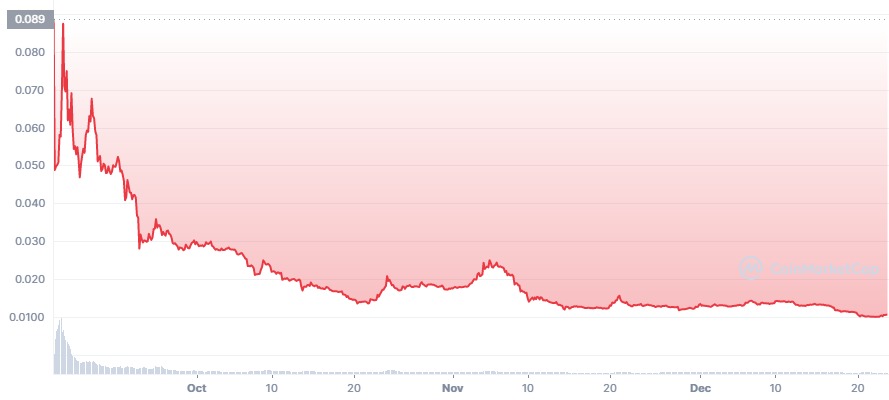 High-Profitability Alternative
If you go by the move-to-earn quantified $215 million market capital, it's still quite low in terms of the entire crypto sector, with a small portion of market share if you go by that category. This M2E platform, called FightOut, is entirely different from other platform we've ever seen. Why is it different?
You can compete in a metaverse, level up your health, and earn rewards. This particular token is all about going to the gym to capitalize more money rather than walking and running. The innovative move-to-earn (M2E) ecosystem FightOut capitalizes on the expanding need for individualized and useful health advice.
Challenge yourself and compete against friends and other community members in the FightOut metaverse!

Enjoy socialising, participating in tournaments, and winning prizes!

Join the presale now and get up to a 50% bonus! ⬇️https://t.co/xwthuHJbBG pic.twitter.com/aTHNYoLTji

— FightOut (@FightOut_) December 22, 2022
The main objective of the FightOut project is to employ tokenized rewards to encourage users to finish workouts and improve their fitness. The FightOut team has discovered a number of issues with the fitness sector, including expensive gym subscriptions, a lack of social interaction, and improperly planned exercise programs. The company hopes to address these issues through the development and release of the FightOut app, all while offering the user financial advantages.
How It Works
The FightOut app classifies workouts and routines under different categories, including Strength, Muscular Endurance, Cardio, Wellness, and Mental Fortitude. Fighting Fit requires a minimum degree of fitness in each category. The platform uses weekly soft caps for each attribute and tapering rewards for each economy as a result. Users are encouraged to progress in all areas in order to maximize benefits.
Related
FightOut (FGHT) – Move to Earn in the Metaverse
CertiK audited & CoinSniper KYC Verified
Early Stage Presale Live Now
Earn Free Crypto & Meet Fitness Goals
LBank Labs Project
Partnered with Transak, Block Media
Staking Rewards & Bonuses
Source: https://insidebitcoins.com/news/sweatcoin-crypto-price-prediction-fightout-stronger-move-to-earn-choice