Jim Crypto reviewed the Dash 2 Trade presale, which he anticipated would be a highly successful project, for his 75,000 YouTube followers.  You can invest in the cryptocurrency presale right now since Dash 2 Trade is currently running one. Dash 2 Trade is a collaborative trading environment created to assist cryptocurrency investors in making better trading decisions.
Dash 2 Trade Presale – Jim Crypto Overview
Only twenty days remain in the final stage of the presale for the Ethereum-based project Dash 2 Trade, which has already sold 75% of its tokens and raised nearly $10 million. The information about the platform is visible on the Dash 2 Trade website, which has been very nicely polished. There aren't many tokens left, but you can still take part right away. Dash 2 Trade has been highlighted on numerous news websites, and the team verified by Coinsniper and contract completely audited  by Solid Proof.
What is Dash 2 Trade
Dash 2 Trade is a trading platform that offers technical indicators, signals data, and trading strategies. Compared to other trading platforms, it is definitely more up to date. Dash 2 Trade is user-friendly since they have done other hard work for you and provide you with on-chain data and trading strategies.
How to Buy Dash 2 Trade Token (D2T)
Use Metamask or a wallet connect, such as Trust Wallet, if you want to take part in cryptocurrency presales. To allow Dash 2 Trade to connect with your wallet, just click the "Connect Wallet" button. Once connected, you can use ETH or USDT to purchase D2T tokens. Simply select how many D2T tokens you want to purchase and click "Convert" (be sure you have at least $30 in ETH available to pay gas costs). You can claim your tokens by going to the official website after the presale is over.
Dash 2 Trade Giveaway
An opportunity to win the Dash 2 Trade token (D2T) valued at $150k is being offered to one lucky winner as a way to honor the Dash 2 Trade presale and the rapidly expanding community. You just need to follow the instructions to get multiple entries and have at least $150 in $D2T token holdings at the time of the draw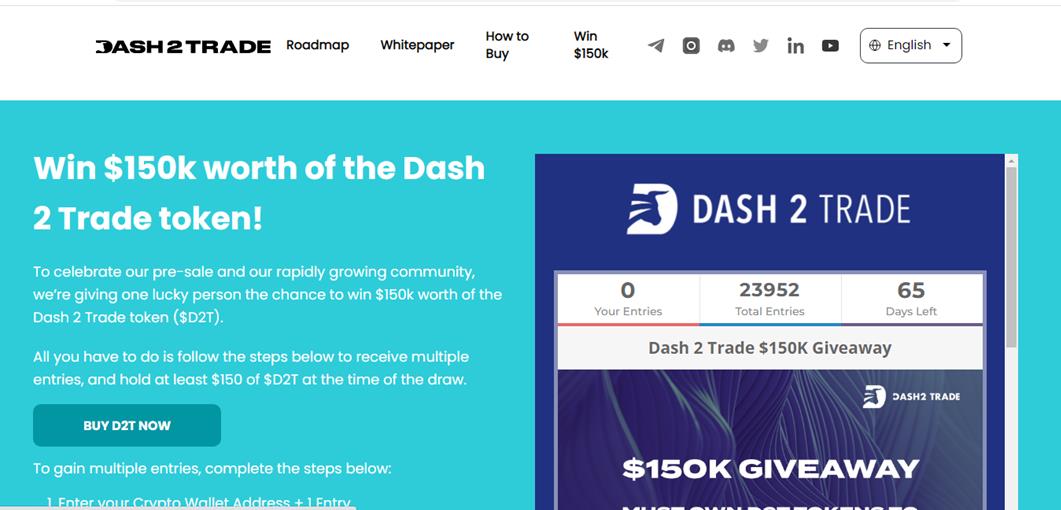 Jim Crypto Conclusion on Dash 2 Trade
This platform is going to gain a lot of traction, Dash to Trade is the first trading dashboard that combines social presale and technical indicators, all of which are powered by the Dash 2 Trade token ecosystem. It also uses social analytics and listing alerts to track price movements, as well as its special presale section gives users an overview of active projects and rates them according to their quality. Finally, it lets users test and implement their own trading strategies using D2T tool sets.
Related
Dash 2 Trade – High Potential Presale
Active Presale Live Now – dash2trade.com
Featured in Cointelegraph – $10M Raised
KYC Verified & Audited
Native Token of Crypto Signals Ecosystem
Source: https://insidebitcoins.com/news/jim-crypto-reviews-dash-2-trade-new-100x-crypto-presale