The cryptocurrency market remains flat after last week's gains. Its total cap has inched upwards by 1% in the past 24 hours, although it had fallen by a bigger margin (along with stock markets) in the past few days. Investor fears regarding what the Federal Reserve might do with interest rates seems to be dragging things down at the moment. However, macroeconomic concerns often provide good discounts, and this week's dip is no exception. In particular, a number of new crypto gaming coins have emerged in recent weeks or months, each with their own USPs. Yet because the market has remained subdued, many haven't yet made good on their fundamentals. Accordingly, this article compiles the 5 best crypto gaming coins for high returns. These are gaming-related coins which should take off once the market regains momentum.
5 Best Gaming Crypto Coins for High Returns
1. Battle Infinity (IBAT)
Battle Infinity (IBAT) is a new play-to-earn crypto gaming platform that's steadily gaining momentum. Based on Binance Smart Chain, its presale started a couple of weeks ago, making the altcoin available at a price of $0.0015. It currently has 75 days left to run, yet it has already raised just over $1,000,000. In addition, BSC Scan reveals it now has 1,439 holders, which is great for a coin that hasn't even launched.
The reason why Battle Infinity is gaining converts so quickly is that it's developing a sports-themed gaming metaverse, where users will be able to participate in a variety of games. The most interesting of these is arguably the IBAT Premier League. This provides players with the chance to build their own fantasy sports team, comprising NFTs representing real-life athletes. They win points — and ultimately IBAT tokens — based on how well their assembled teams perform.
?INTERACT. PERFORM. EXPLORE.?

BUILD YOUR OWN STRATEGIC TEAM AND BATTLE IN THE NEWEST NFT-BASED FANTASY SPORTS GAME – BATTLE INFINITY!

10,000,000,000 TOKENS AND LIMITLESS OPPORTUNITIES‼️

JOIN NOW ?https://t.co/6STv8jClXT #presale #Cryptocurency #Blockchain

— IBAT – Battle Infinity (@IBATOFFICIAL) July 15, 2022
With a development based mostly in India, Battle Infinity will also be developing additional crypto and NFT-based games, as well as a competitive staking feature, its own DEX and an NFT marketplace. Given the scope of these plans, it's easy to see why its sale is already going why, and why it's among our 5 best gaming crypto coins right now.
??Battle Stake is our staking platform where you can battle against stakers to get higher APYs. There are 3 types of staking that we are introducing: •SOLO STAKING •DUO STAKING •CRATES STAKING #staking #battleinfinity #presale #StakingRewards pic.twitter.com/bYzIobl8Bh

— IBAT – Battle Infinity (@IBATOFFICIAL) July 18, 2022
2. Lucky Block (LBLOCK)
LBLOCK is up by 4% in the past 24 hours, at $0.00102472. This means it's also up 3.5% in the past week and by 24% in the past fortnight.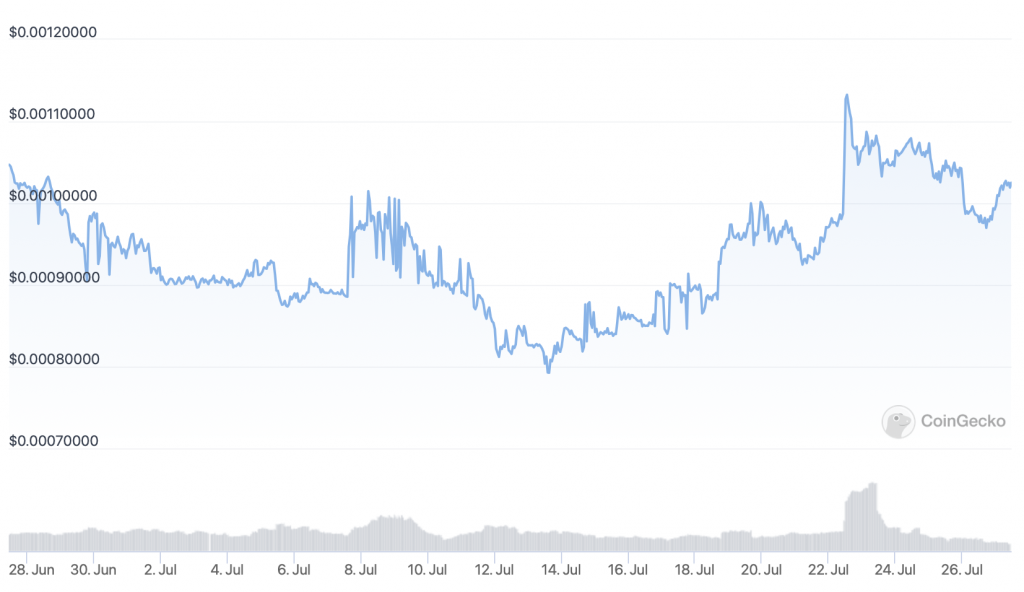 LBLOCK remains up by 135% since its launch in late January, while it's down by 89% since an all-time high set in mid-February. Of course, this decline means that LBLOCK has plenty of room to rebound once the market returns to bullishness.
There are plenty of fundamental reasons why LBLOCK can be expected to rally soon enough. Firstly, Lucky Block expanded its ecosystem to include various NFT-related competitions. Basically, by purchasing a Lucky Block NFT, users will be able to enter different draws. This includes draws for Bored Ape Yacht Club NFTs, $1 million in bitcoin, a luxury holiday, a FIFA World Cup package, and also a house worth $1 million.
Gm #LuckyBlockArmy! ?

Quick reminder about the Live Demo of our NFT competition platform! ?

This Exclusive video walkthrough will be hosted on Discord at https://t.co/sfgeRiWuVa ?

Date – 28th of July ?
Time – 2pm BST ⏰ pic.twitter.com/3FQ4oZWExw

— Lucky Block (@luckyblockcoin) July 26, 2022
Lucky Block's NFT platform will also enable NFT holders to earn rewards in LBLOCK. Another incoming feature is that all holders of LBLOCK will be able to claim their share of 10% of each daily prize fund, simply by heading over to the Lucky Block web app and voting for a charity (which will receive an additional 10% of each fund).
Lastly, Lucky Block is in the process of rolling out an Ethereum-based version of its token. This will be listed by LBank Exchange soon enough, as well as by Singapore-based MEXC Global at the beginning of August.
? LBank will Support LBLOCK Token Contract Upgrade and Migration

The LBLOCK holders will get the new LBLOCK at the ratio of 1:0.94

? Details: https://t.co/VwpJQT6yeq#crypto pic.twitter.com/hbfZY0nlRo

— LBank.info (@LBank_Exchange) July 27, 2022
Such developments speak to how quickly Lucky Block is developing. And with its regular main draws awarding jackpots to winners since May, it should begin accumulating followers steadily from now on.
3. The Sandbox (SAND)
At $1.21, SAND has risen by 2.4% in the past 24 hours. It is down by 15%, however, while remaining 10% up in the past 14 days.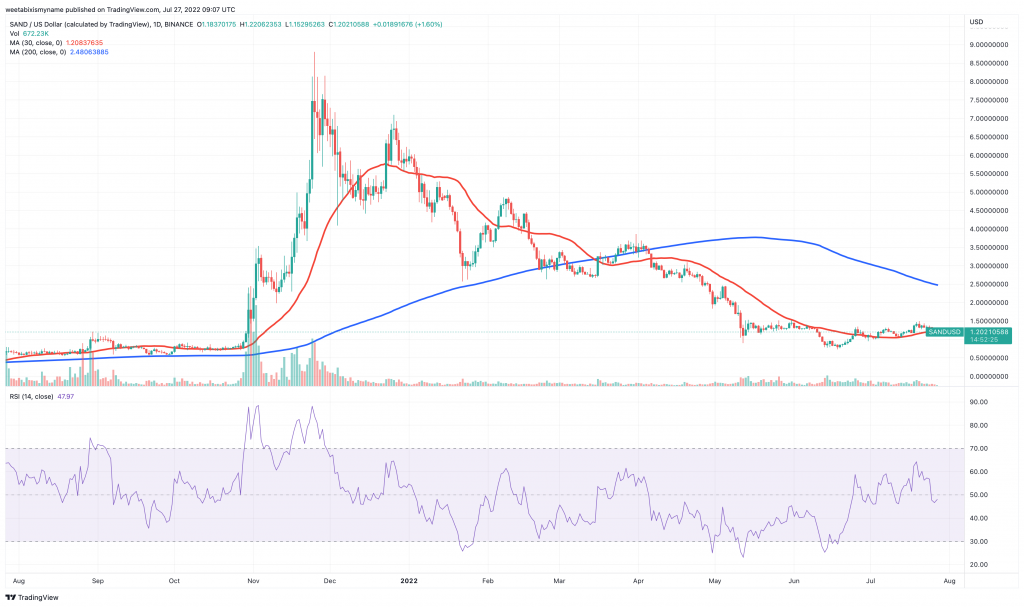 SAND's indicators are more or less typical for a cryptocurrency in this bearish market. Its relative strength index (in purple) is hovering around 50, having risen to 60 last week. What's interesting about its RSI is that it shows how the market is primed to rise again in the event of positive macroeconomic news. Last week, stock markets rallied amid positive earnings reports, something which helped the cryptocurrency market to push upwards. However, with the threat of another Fed rate hike on the cards, and with gas supply worries in Europe, markets have been hurt again.
This suggests that all crypto needs for a renewed bull market is a few steady months of good economic news. And SAND is one of the best-placed crypto gaming coins to profit from a more positive outlook. The blockchain-based gaming platform had two million registered users at last count, as well as 350,000 monthly active users. This dwarves its competition.
More recently, the Sandbox has continued to announce new partnerships and launches. This includes an interesting involvement with the Wharton School of the University of Pennsylvania's 'Business in the Metaverse Economy' online course, something which was announced only yesterday.

We are excited to announce @animocabrands involvement in @Wharton's flagship online program: Business in the Metaverse Economy. Complete with 50+ lecture videos, 6 industry case studies, & interactive metaverse learning experiences.

Learn more at: https://t.co/rmeOoCG8R7

— The Sandbox (@TheSandboxGame) July 26, 2022
It also includes entries into the Sandbox's metaverse from Playboy and skating legend Tony Hawk. This highlights the kind of pull the platform has in relation to its rivals. It also shows why SAND is one of our 5 best crypto gaming coins to buy at the moment.
4. Alien Worlds (TLM)
TLM is $0.02567447 this morning, representing a rise of 2.5% in 24 hours. On the other hand, it has fallen by 11% in a week and by 5% in a month.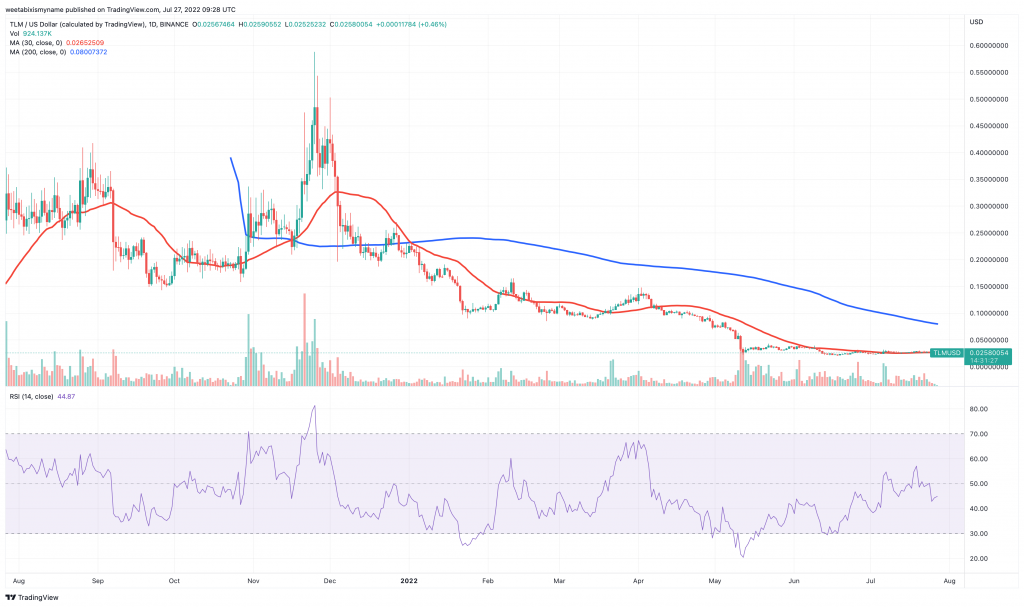 TLM's indicators are much like SAND's. Its RSI is middling, suggesting neither oversold or overbought conditions. Its 30-day moving average (in red) is squarely below its 200-day average (in blue), indicating that it's due a rally at some point.
For those unfamiliar with Alien Worlds, it's a blockchain-based gaming metaverse. Running on Ethereum, Binance Smart Chain and WAX, it's accessible to plenty of users and, by extension, demand for its native TLM token.
As a sign of just how big Alien Worlds is, DappRadar currently ranks it first among blockchain applications in terms of users. It currently counts 250,000 users in the past 24 hours, as well as more than half a million in the past month.
This shows how popular the game is, with players travelling its virtual worlds to collect and mine TLM. It also shows why it belongs in any list of the 5 best gaming crypto gains to buy for high returns.
5. Axie Infinity (AXS)
AXS is up by a very modest 0.5% in the past day, reaching $15.15. This represents a 10% drop in a week, a 17% rise in a fortnight, and a 6% fall in 30 days.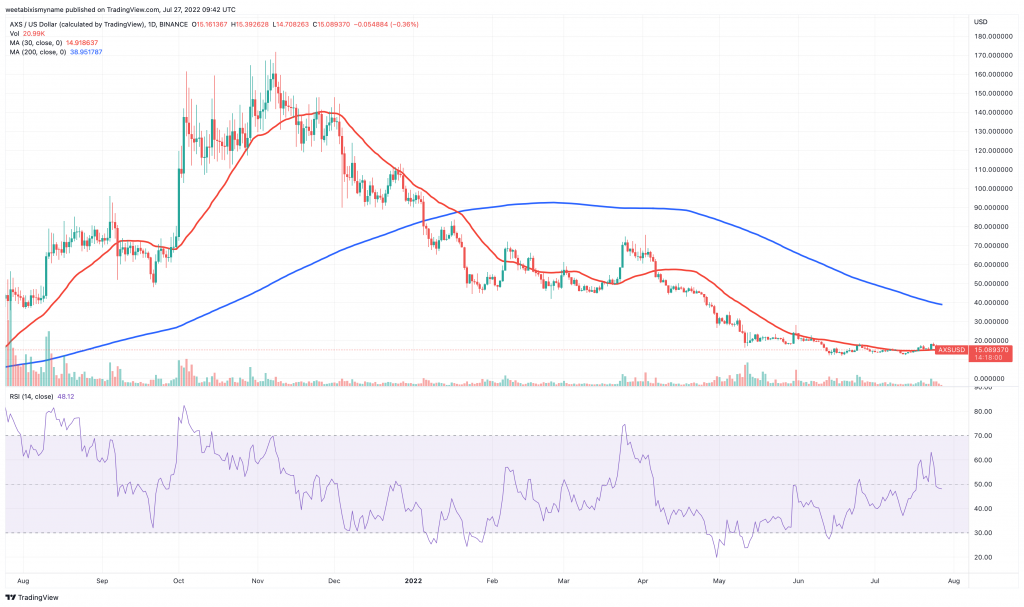 AXS's indicators are typical for the current market. In other words, they're pretty uncertain, with either a recovery or further falls just as plausible right now.
Regardless, Axie Infinity's fundamentals should enable AXS to recover eventually. It may have witnessed a decline in daily active users since its peak in 2021, but figures remain in the 280,000 range, which is higher than pretty much every crypto gaming platform other than Alien Worlds.
Despite its travails this year, Axie Infinity seems to be on the road to rebuilding itself, starting with an upgrade to its tokenomics in April. Encouragingly, it has witnessed a rise in NFT sales in the past few weeks, suggesting that investors and players are regaining interest in it. And with the Ronin bridge reopened in June after the March hack, it's all set for a big recovery at some point. Indeed, with AXS 90% below its all-time high of $164.90, there's plenty of space to rebound.
22,000 Axies sold in the last 24 hours. Was at 7,000 a few weeks ago.

Origin growing quickly with the new Alpha Season. 4,600 downloads yesterday.

Bridge is up. Land (90% staked) is emitting AXS.

Nature is healing. pic.twitter.com/AdNzi8x4cb

— The Jiho.eth ?? (@Jihoz_Axie) July 7, 2022
Your capital is at risk.
Read more:
Source: https://insidebitcoins.com/news/5-best-gaming-crypto-coins-for-high-returns-july-2022