Bitcoin Approaches Oversold Region as BTC Price Violates the $17K Support – December 16, 2022
Bitcoin has been trapped between the moving average lines since November 30 as BTC Price violates the $17K support. Buyers and sellers have been negotiating prices over the past 48 hours. On December 14, Bitcoin surged to a high of $18,391 before falling again. The bears are still defending the resistance levels, as evidenced by this. The 21-day line SMA has been violated by the ensuing negative momentum.
Bitcoin Price Statistics Data:
•Bitcoin price now – $16,821.50
•Bitcoin market cap –$323,660,485,403
•Bitcoin circulating supply – 19,235,587 BTC
•Bitcoin total supply – $353,369,203,917
•Bitcoin Coinmarketcap ranking – # 1
Resistance Levels: $50,000, $55, 000, $60,000
Support Levels: $25,000, $20,000, $15,000
Bitcoin's (BTC) price is falling as price breaks below the 21-day line SMA and the $17,000 support. As long as prices stay below the moving average lines, the present price decline can persist. The present support level has not been breached since November 30. The previous low of $16,000 is anticipated to be visited by the BTC price on the downside. If the $16,000 support holds, the sideways movement in BTC/USD will resume. The price of BTC has been restricted between $16,000 and $18,000 since November 9. But if the $16,000 support is broken, Bitcoin would descend once again to its previous low of $15,588.
Europe and Africa Will Be Able to Transfer Money through the Bitcoin Lightning Network
CoinCorner and Bitnob work together to establish cross-border transactions from the UK and Europe to Africa via the Bitcoin Lightning Network. Typically, a third-party facilitator like Western Union, which relies on centralized companies, is needed to transfer money between Europe and Africa. These transactions frequently need the consent of many parties, which lengthens processing times and raises costs. According to World Bank projections, Nigeria received about half of the $40 billion in remittances to Sub-Saharan Africa each year as of 2020.
Users can now send money from the United Kingdom and other parts of Europe to a few African nations using the Bitcoin Lightning Network. With the help of the software Send Globally, users can change British pounds or euros into Kenyan shillings, Ghanaian cedis, and Nigerian nairas. The Lightning Network transfers money directly into the recipient's bank account or mobile money wallet after first converting it to Bitcoin (BTC) tickers down $16,803 and the local currency of that nation.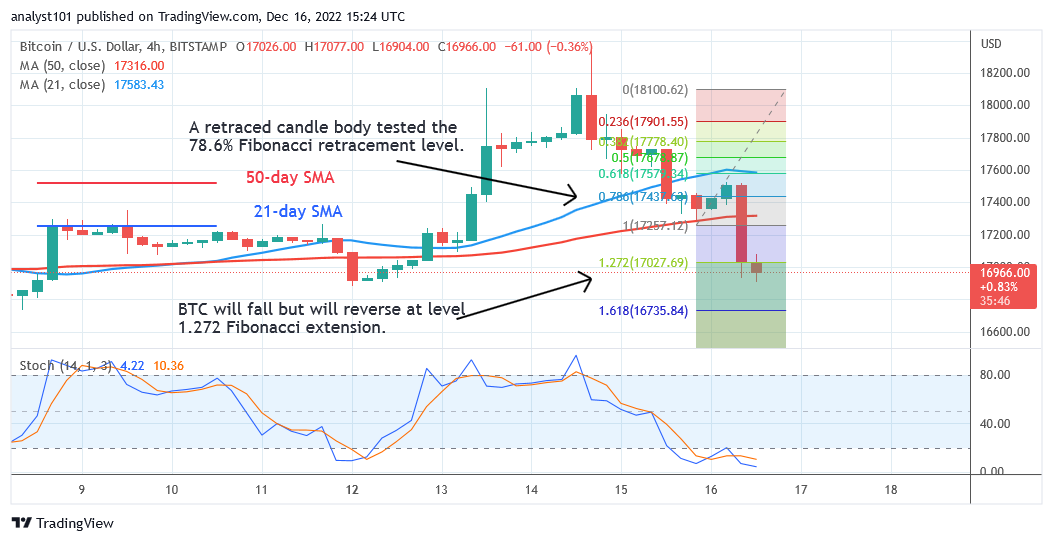 Bitcoin has since dropped to a low of $16,743 as BTC Price violates the $17K support. As the market approaches oversold territory, the current decline is expected to slow down. As long as the largest cryptocurrency holds above the existing support, it is likely to reverse. A range-bound move between levels $16,000 and $18,000 will follow.
However, Bitcoin has been stuck in a range for more than a month. Some analysts think that before Bitcoin reaches its bottom, it will continue to plummet. Because Dash 2Trade will allow them to enhance their trading chances, traders don't need to worry. Dash 2 Trade gives you the ability to optimize your trading and speculative profitability with effective crypto trading recommendations, auto trading, and analytics features. There is a D2T token presale ongoing and time is running out. The presale dashboard launch is coming soon since the product dev is ahead of the schedule. So far, the presale has raised almost $10 million.
Related
• D2T Price Prediction
• How to buy D2T token
Dash 2 Trade – High Potential Presale
Active Presale Live Now – dash2trade.com
Featured in Cointelegraph – $10M Raised
KYC Verified & Audited
Native Token of Crypto Signals Ecosystem
Source: https://insidebitcoins.com/news/bitcoin-price-prediction-for-today-december-16-btc-price-violates-the-17k-support