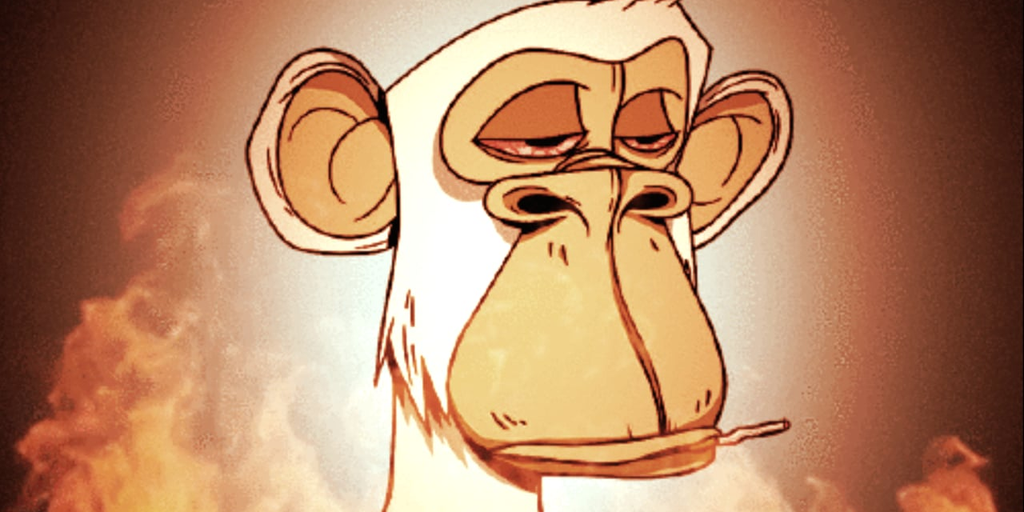 A valuable digital collectible was permanently removed from circulation over the weekend, as its owner aimed to symbolically shift the asset's underlying blockchain from Ethereum to Bitcoin.
The collectible was Bored Ape Yacht Club (BAYC) #1626, an Ape from the most valuable project in the NFT space. Its most recent sale on OpenSea took place last November when it sold for 108 Ethereum—that's nearly $432,000 at the time of the transaction, or around $169,000 at today's prices.
NFTs are digital assets that are provably unique and signify the ownership of an item, often digital art. The ownership of BAYC #1626 is linked to a digital token that is recorded on the Ethereum network, where it could also be traded—that is, up until recently.
Digital tokens can be permanently removed from circulation through a process called burning, which involves sending an asset to a location where it cannot be retrieved. Jason Williams claimed to have burned BAYC #1626 over the weekend, preventing it from being sold ever again, at least on Ethereum's network.
​​"Essentially throwing a Lamborghini into a trash compactor–It's kind of fun," Williams told Decrypt. "Whether putting bloated JPEGs on Bitcoin's base chain is smart or not is a whole 'nother discussion, but I think it's going to be a lot of fun seeing how it plays out."
Williams believes his Ape now exists on Bitcoin. That's because the location to which BAYC #1626 was burned is linked to an Inscription made through Ordinals. Ordinals, created by Casey Rodarmor, is a project that allows content like videos and images to be assigned to individual satoshis—the smallest unit that Bitcoin can be divided into—where they permanently exist on Bitcoin's network as Inscriptions.
Even though the number of Inscriptions on Bitcoin is approaching 100,000, there are few notable marketplaces for people to trade them, and a significant number of buyers and sellers are linked together currently through Ordinal's discord server.
The burn took place using a newly developed feature for Ordinals named Teleburn, which creates a unique location with each new Inscription to which digital assets can be burned. The feature allows users to assign an existing asset from another network to a Bitcoin Inscription while removing it from circulation, effectively transferring the token between chains in the eyes of those who created the new feature.
"The idea is that you are one-way, permanently burning an asset on another chain and pointing it to the ordinal that lives on the Bitcoin chain," said Rob Hamilton, who collaborated with Rodarmor to create the new Ordinals feature. 
Hamilton approached Rodarmor about developing the Teleburn function last Saturday at Bitcoin Park, a coworking space in Nashville, Tennessee that caters to the Bitcoin community. The two decided to work together after Hamilton pointed out that Williams wanted to burn his Ape, who had responded to one of Rodarmor's Tweets.
"Let's go write some code right now," Rodarmor said, according to Hamilton, adding that the prospect of burning an Ape got Rodarmor "really excited."
Rodarmar did not respond to requests for comment from Decrypt. However, the two can be seen developing Ordinal's Teleburn function in a recent Tweet, according to Hamilton.
Burning BAYC #1626 wasn't the first time that Ordinal's Teleburn function was used. Rodarmor first tested the new feature out on an ENS domain he owned, rodarmor.eth. Then the pair oversaw Williams as he burned the ape.
The term Teleburn was coined by Rodarmor, as a combination of the words teleport and burn, said Hamilton. Rodarmor referenced the function's hasty development with Hamilton in a recent tweet.
Hamilton believes the Teleburn function will catch on as a way for people to bridge their digital collectibles, noting that Rodarmor plans to extend Ordinal's Teleburn support to assets on other chains aside from Ethereum, such as Tezos and Solana.
"This has now set the standard of representing an asset across the chain," said Hamilton. "It's going to be the way to actually have skin in the game," pointing out that assets burned are permanently gone from circulation.
A chimp off the old block?
As news of the Bored Ape burn spread on Twitter Monday, Yuga Labs co-founder Greg Solano weighed in on the matter, stating the Inscription linked to BAYC #1626 is an unlicensed reproduction of the original NFT because Williams no longer maintains its possession on Ethereum's network.
"If you transfer your ape to an address you no longer control (even if it's the 'burn' address), you have effectively given up your license," he stated.
Solano also pushed back against the notion that BAYC #1626 is "gone from [Ethereum] forever," as mentioned in the post's initial Tweet, because it still exists on-chain, even if people can no longer access it.
It's not "gone from ETH forever." It's basically the same as any other transfer: If you transfer your ape to an address you no longer control (even if it's the 'burn' address), you have effectively given up your license.
And no, before someone asks, that doesn't mean that anyone… https://t.co/E52b7ZjWbu

— Garga.eth (Greg Solano) (@CryptoGarga) February 13, 2023
A spokesperson from Yuga Labs confirmed to Decrypt the company believes the Inscription of BAYC #1626 is an illegitimate Ape.
"Only NFTs minted from Ethereum contract: 0xBC4CA0EdA7647A8aB7C2061c2E118A18a936f13D are legitimate BAYC NFTs," a Yuga spokesperson said, referencing the smart contract that yielded the collection's 10,000 Apes.
Whether the new Ordinals function could supplant Ethereum's popularity for hosting digital art is doubtful, according to the CEO of Web3 development platform Hiro Alex Miller. Hiro builds tools for Stacks, a network built on top of Bitcoin that aims to bring smart contract functionality to the underlying network.
"As much as I am very pro-Bitcoin and think there's going to be a massive ecosystem there, it's not going to replace Ethereum NFTs tomorrow, or probably at all," Hiro told Decrypt. "I think it's gonna be interesting to see where this goes."
Miller said the Teleburn function provides a solution for keeping track of a digital art's provenance—the record of prior ownership—across blockchains, adding that it's challenging to establish which digital collectible is the real one if it exists in circulation on multiple chains.
The Hiro CEO also compared how data is stored on Bitcoin using Ordinals versus Ethereum NFTs. While it's possible to store assets such as images on-chain using Ethereum, most NFTs point to an asset that is stored off-chain, whether that's also an image or another type of file. With Inscriptions, the data is stored directly and permanently on Bitcoin's blockchain.
Regardless of whether the Inscription of BAYC #1626 is an unofficial version of its Ethereum-based predecessor, Miller thinks the collectible will "carry a lot of value" because of its first-of-a-kind nature.
"He basically turned it into something that is now an ultra-rare [Ape]," Miller said, referencing the categories by which NFTs are often ascribed value based on the rarity of their attributes. "The market is going to value it as its own unique piece of art."
Stay on top of crypto news, get daily updates in your inbox.
Source: https://decrypt.co/121298/bored-ape-owner-burns-169k-nft-ethereum-bitcoin