Cryptocurrency prices were up over the past day, relatively unaffected by the release of the Fed's latest meeting minutes on Wednesday. Crypto-related stocks dipped across the board, with Coinbase briefly higher on news of its Layer 2 plans before it pared gains. 
Bitcoin was trading just above $23,900 by 11:20 a.m. EST, down 1% today, according to Binance data. The leading cryptocurrency by market cap has failed to consistently trade above $24,000 over the past week.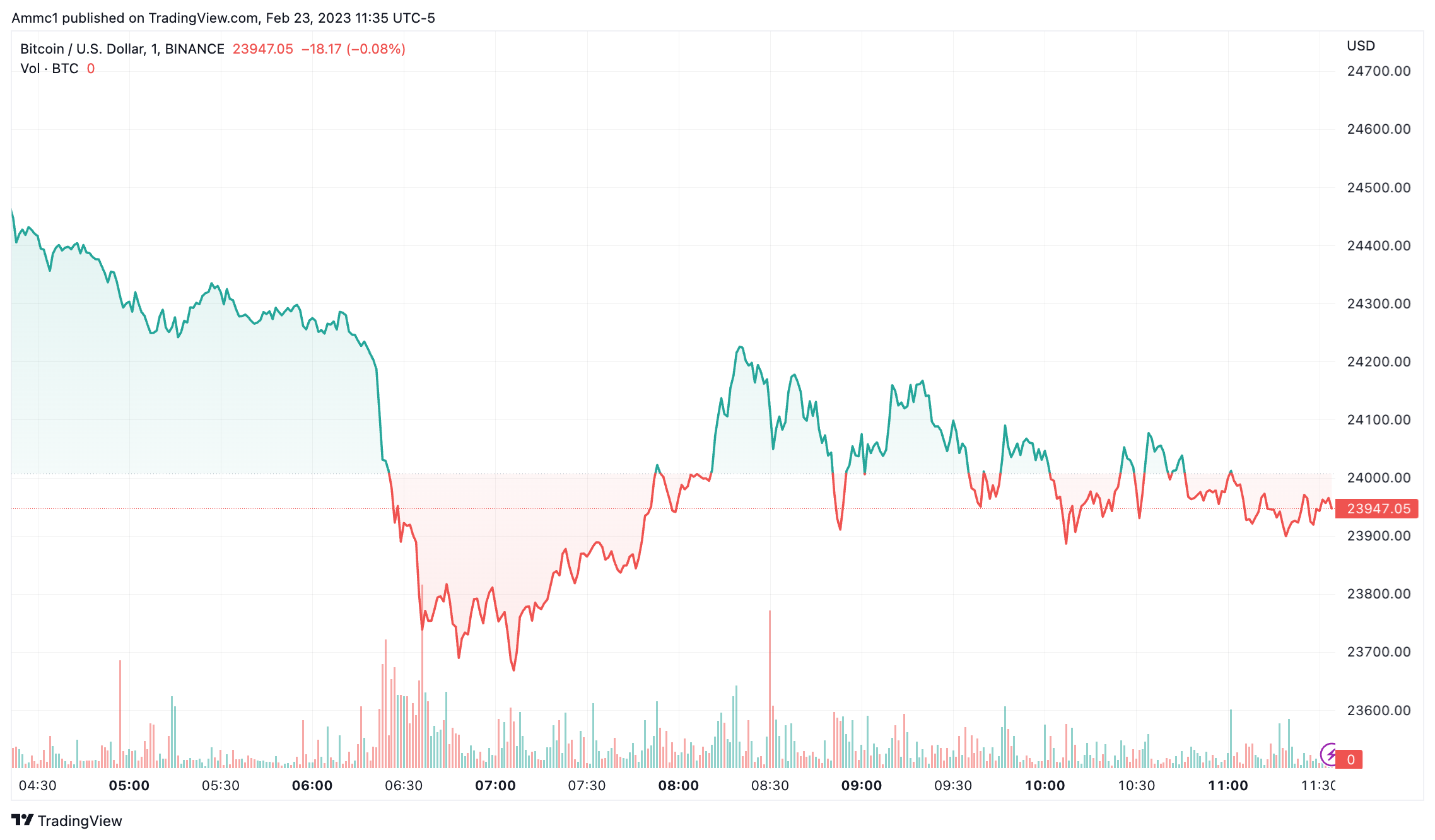 Ether was trading up 0.5% to $1,650. Binance's BNB dipped about 1.2%, while Cardano's ADA and Polygon's MATIC added 0.5% and 0.3%, respectively. Dogecoin was up 1.4%, while shiba inu added 3.5%.
Optimism's token price jumped following Coinbase's announcement that it would build its Layer 2 network on the OP Stack and become a core developer of the software stack. OP briefly traded up 7%, above $3. It was trading around $2.91 by 11:40 a.m. EST, still above its pre-announcement price.
The Fed's meeting minutes yesterday revealed some members of the FOMC were inclined to increase rates by 50 basis points at the beginning of the month. Markets briefly moved higher following the release.
Crypto stocks and structured products
Coinbase briefly traded above $64 following the news of its impending Layer 2 release. Shares in the exchange retreated to $60.47 by 11:30 a.m. EST, according to Nasdaq data. Cathie Wood's Ark Invest added $13 million worth of COIN shares across two funds on Wednesday.
Silvergate continues to trade down, trading below $15 as it shed almost 5%. The crypto-friendly bank has come under renewed scrutiny despite institutional interest from Citadel Securities and BlackRock. 
MicroStrategy dipped 1.1%, and Jack Dorsey's Block was down 0.8%.
Grayscale's bitcoin trust has soared over 40% so far this year. The fund's discount to net asset value (NAV) has widened periodically since January. Shares in the fund are currently trading at a discount of 46.5% to the value of the bitcoin in the fund, according to The Block data.
Source: https://www.theblock.co/post/214449/bitcoin-flirts-with-24000-coinbase-pares-gains-following-layer-2-announcement?utm_source=rss&utm_medium=rss