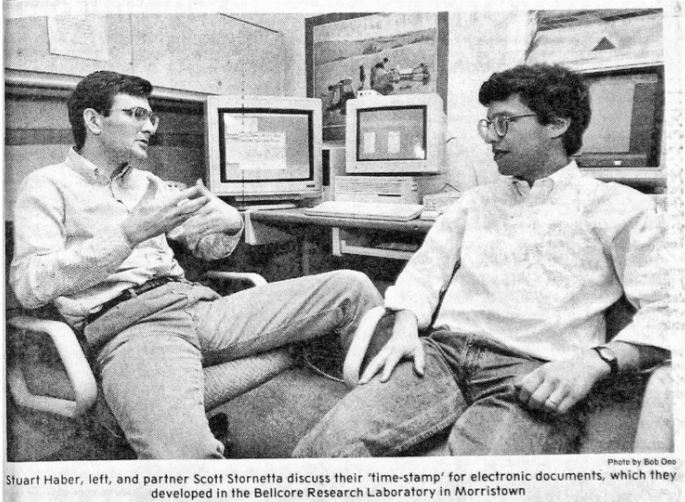 Drs. Stuart Haber and W. Scott Stornetta, the co-inventors of the early blockchain, are collaborating with a team of industry-leading partners to commemorate the start of blockchain technology, its past, present, and future. It is a tribute to the journey and the community.
30th Blockchain Anniversary Celebration
Accordingly, as per today's announcement, the 30th anniversary of blockchain of the public appearance of what might be called the genesis block of what is the world's oldest continuously running primitive blockchain.
Furthermore, the celebration will end on the 13th anniversary of the Bitcoin genesis block,  3rd January 2022. According to Satoshi Nakamoto's white paper, Bitcoin is a peer-to-peer electronic cash system that relies on Haber and Stornetta's mechanism that ensures the integrity of all its transactions.
More so, the celebration of the blockchain journey will be with a collection of non-fungible tokens (NFTs) that both involve, appreciate, and honor the founders, innovators, and thought leaders of the blockchain community. The NFTs displaying the range and diversity of the blockchain ecosystem will be auctioned via a novel mechanism and will involve several innovative layer-1 blockchains and their communities.
The global thought leader in NFTs and founder of Artnome. com and ClubNFT, Jason Bailey stated, "Without the work of Stuart Haber and Scott Stoenetta there are no NFTs, no Bitcoin, and no blockchain. I'm thrilled that they are using this opportunity to create an NFT to unify everyone within the blockchain ecosystem in a way that I believe only they can".
Eventually, Stuart Popejoy, the co-founder and CEO of the Kadena blockchain and smart contract platform, also mentioned that the blockchain is excited and honored to participate in Immutable Record's celebration of blockchain. 
All-in-all, the co-inventors of early blockchains, Stuart Haber and W. Scott Stornetta concluded by saying that they are happy to join the celebration of the blockchain, and also they mentioned that they will be announcing the involvement of other leading layer-1 blockchains and thought leaders.
Disclaimer: This article is provided for informational purposes only. It is not offered or intended to be used as legal, tax, investment, financial, or other advice.
Source: https://www.cryptodaily.co.uk/2021/10/30-year-blockchain-anniversary-celebration