Bitcoin has undergone a strong surge since the lows seen when OKEx announced it had frozen withdrawals. In the past 30 days alone, BTC has gained more than 40%, shocking most investors.
Key on-chain trends show that Bitcoin investors are starting to become "greedy." While this may not be a sign of an immediate top, Bitcoin holding in the range of greed for extended periods of time has historically preceded bearish reversals.
Related Reading: Here's Why Ethereum's DeFi Market May Be Near A Bottom
Key Bitcoin Metric Entering "Greed" Territory
According to on-chain analyst Philip Swift, the relative unrealized profit and loss of Bitcoin investors is currently in a territory of "greed," suggesting that a top may be near:
"1/ Relative Unrealized Profit/Loss indicator: Has now entered the 'Greed' zone on this latest push up by #bitcoin. Sounds bad but actually we can spend large parts of the bull cycle in this area. We are still early with plenty more room to the upside to go."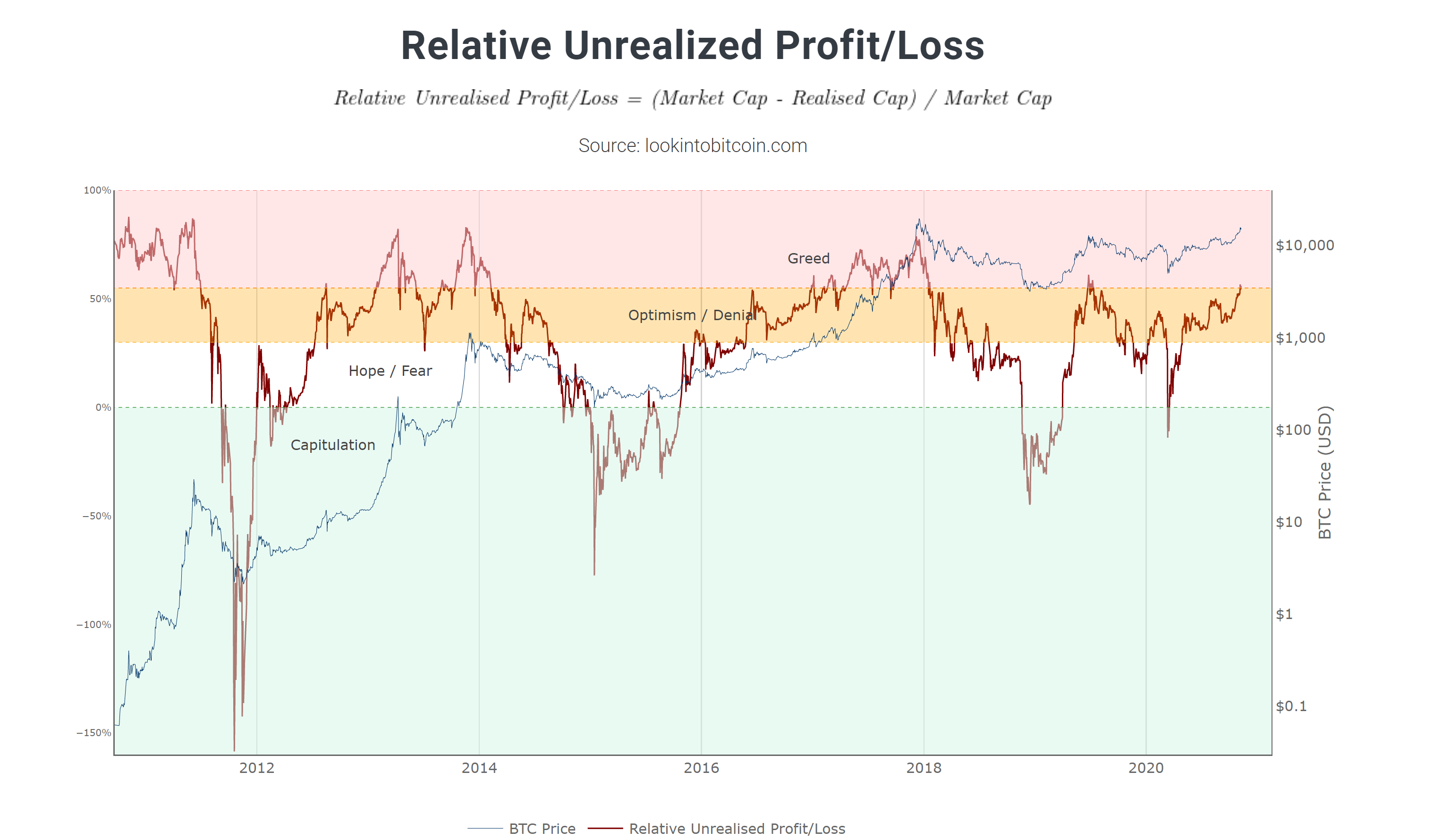 The Crypto Fear and Greed Index also shows that Bitcoin investors are getting greedy.
The Index is currently printing a reading of 90, which suggests the market is currently "extremely greedy."
The creators of the Bitcoin index suggest that when the market is too greedy, it may be a time to short, while when the market is fearful, it may be a good time to buy.
"The crypto market behaviour is very emotional. People tend to get greedy when the market is rising which results in FOMO (Fear of missing out). Also, people often sell their coins in irrational reaction of seeing red numbers. With our Fear and Greed Index, we try to save you from your own emotional overreations."
Bitcoin may top in the near term if the market is too exuberant.
Related Reading: 3 Bitcoin On-Chain Trends Show a Macro Bull Market Is Brewing
Featured Image from Shutterstock
Price tags: xbtusd, btcusd, btcusdt
Charts from TradingView.com
This Key Metric Suggests Bitcoin Investors Are Starting to Get Greedy
Source: https://www.newsbtc.com/analysis/btc/this-key-metric-suggests-bitcoin-investors-are-starting-to-get-greedy/