The Grayscale Bitcoin Trust (GBTC) closed the previous week with a record discount of 21.36%, data from Glassnode shows.
This means that new investors can purchase GBTC shares at prices significantly lower than the actual market value of Bitcoin, while the existing holders face losses due to the six-month lock-up period for the initial investment.
According to Grayscale, the price of GBTC shares fell by 3.46% last Friday, recording a $43.77 price tag per share.
However, with each GBTC share currently amounting to 0.00093202 BTC, the stock's actual price was $34.42 in Bitcoin, down 5.21% from the previous trading session.
The discrepancy between these two price changes further reveals the effects of the discount.
GBTC is a closed-end fund, which means it cannot easily add or remove shares to accommodate inflows and outflows. As a result, its share price is determined predominantly by supply and demand, rather than the underlying value of its assets, as would be the case with a traditional ETF.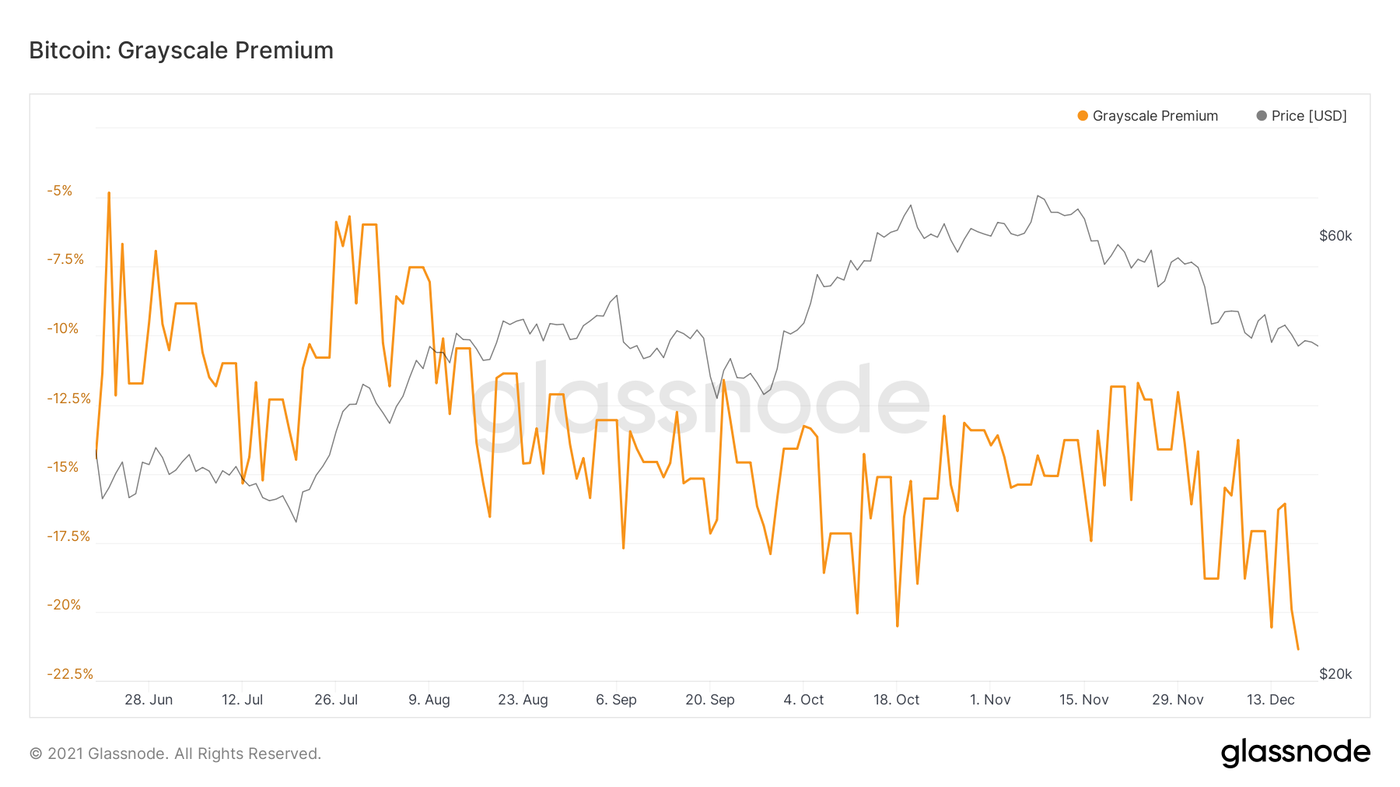 Launched in 2013, the Grayscale Bitcoin Trust is the most popular product of digital asset manager Grayscale Investments, allowing investors to trade shares in trusts holding large pools of Bitcoin. Currently, GBTC holds over $30 billion in assets under management.
Historically, GBTC shares have traded at a significant premium relative to the market price of Bitcoin, however, the price of the stock turned negative at the end of February this year following the launch of several Bitcoin exchange-traded funds (ETFs) in Canada.
Converting GBTC into a Bitcoin ETF
Grayscale believes that the best way to reverse the current discount is to convert GBTC into a full-fledged Bitcoin ETF, arguing that a spot Bitcoin ETF would be "in the best interest of investors."
The firm filed a formal application with the U.S. Securities and Exchange Commission (SEC) to convert GBTC into an exchange-traded fund backed by physical Bitcoin in October.
Yet last week, the SEC, which has so far rejected all attempts at launching such a product in the U.S. market, delayed a decision on both the GBTC and Bitwise Bitcoin ETF. Per the Commission, it needs another 45 days to review the corresponding proposals.
Prior to that, the SEC rejected another application for a Bitcoin ETF, filed by New York-based ETF issuer WisdomTree.
Despite the setbacks, demand for an exchange-traded fund by actual Bitcoin remains something that major U.S. exchange Coinbase confirmed last week when it publicly endorsed plans for GBTC's conversion into a Bitcoin ETF.
Source: https://decrypt.co/88764/grayscale-bitcoin-trust-discount-hits-largest-discount-ever