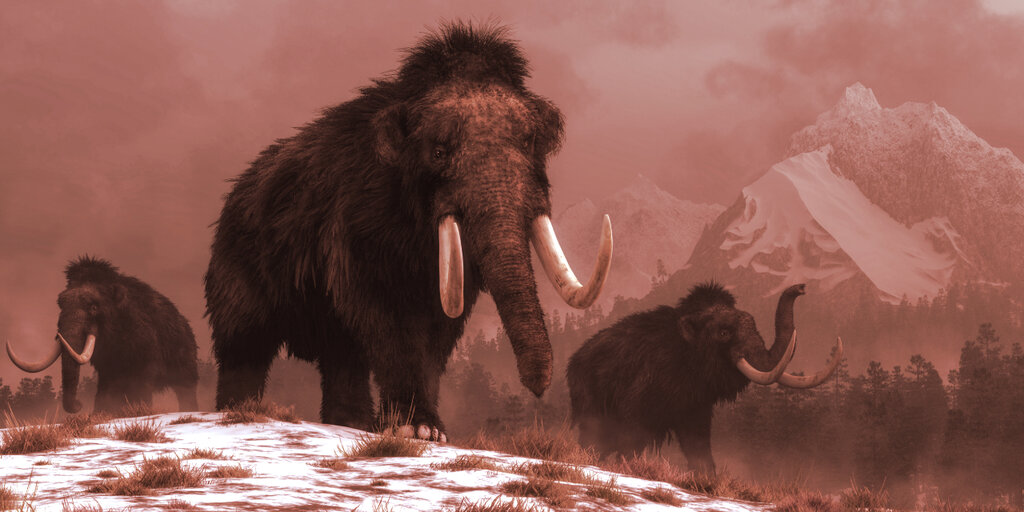 In brief
Cameron and Tyler Winklevoss joined Tim Draper in a $15 million funding round for de-extinction startup Colossal.
Colossal believes that reviving the Woolly Mammoth could help decarbonize the atmosphere.
Cameron Winklevoss also gave a $100,000 price prediction for Bitcoin this year.
In one of the stranger pieces of news from the crypto world recently, Bitcoin billionaires the Winklevoss twins and Tim Draper have pitched in to a $15 million funding round for a startup aiming to revive the extinct woolly mammoth. 
According to Fortune, the trio helped fund "de-extinction" startup Colossal, which hopes to restore the ecosystems where woolly mammoths once grazed in an effort to help decarbonize the atmosphere. 
Harvard genetics professor George Church, together with entrepreneur Ben Lamm, debuted Colossal yesterday with $15 million worth of investment pooled from several venture capital billionaires.
The investment round, led by Legendary Pictures founder Thomas Tull, saw various crypto acolytes pitch in—including Gemini exchange co-founders Cameron and Tyler Winklevoss, and venture capitalist Tim Draper. In 2014, Draper bought 30,000 seized Bitcoins from the dark web drug marketplace Silk Road in an auction held by the U.S. Marshals Service. 
A "moonshot" project
Colossal hopes to use gene-editing technology on the endangered Asian elephant to give it the same characteristics as the extinct woolly mammoth. Church, the project leader, hopes to grow the embryos inside artificial wombs, or the wombs of Asian or African elephants. 
Cameron Winklevoss called the enterprise a "moonshot" and told Fortune that he hopes to see returns from future television deals, or even a Jurassic Park-style theme park for extinct animals. 
Switching to a more familiar topic, Cameron Winklevoss also told Fortune that he anticipates that Bitcoin will hit $100,000 by the end of the year. He also called the nascent non-fungible token (NFT) industry a "multitrillion-dollar asset class over the next decade."
The Winklevoss twins are known as heavyweights in the crypto world. Outside of Gemini, the pair's VC firm Winklevoss Capital Management has helped raise millions for crypto ventures, including Filecoin and the now-defunct Bitcoin exchange Bitinstant. They also own NFT marketplace Nifty Gateway, and have backed several emerging NFT artists, including teenage NFT superstar FEWOCiOUS.
 The big question, of course, is: will visitors to the woolly mammoth safari park be able to pay for their tickets with Bitcoin?
Source: https://decrypt.co/80898/bitcoin-billionaires-back-woolly-mammoth-revival-project-colossal